Central Saanich to allow big-box stores
Apr 17 2012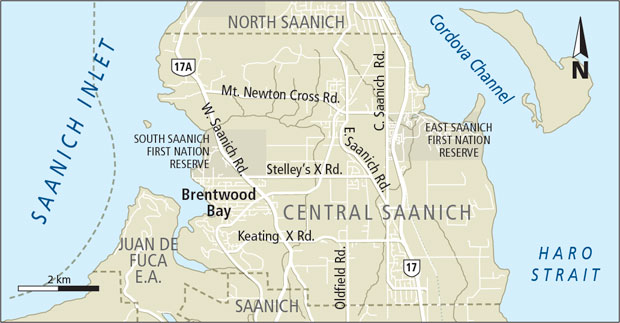 Building size restrictions have been lifted to allow big-box stores in Central Saanich's Keating area.
Photograph by:
... , timescolonist.com
Central Saanich council has decided to welcome big-box stores, saying it has to show that the municipality's Keating industrial area is "open for business" and can be a home for stores that might otherwise set up in a proposed development on nearby First Nations land.
The council split 5-2 Monday night in favour of amending a bylaw that limited store size to a maximum of 54,000 square feet — too small for big-box stores. That size restriction was an impediment to drawing business to Keating, said several councillors. The amendment would set no maximum store size, and each proposal will be evaluated on a case-by-case basis.
As well, council voted in favour of allowing large retail use in areas now zoned for light industrial.
"Our community is in dire economic straits," said Coun. Cathie Ounsted. "I think this is a really good first step to making some of the changes we need. We have a lot more planning for our economic development, but this is a start."
The bylaw amendment was suggested last summer by former councillor Ron Kubek, who said impediments to development in the flagging Keating industrial area should be removed.
Since then, the nearby Tsawout First Nation has made public its plans to create a 650,000-square-foot shopping centre that would have big-box stores as its anchor tenants.
That plan is contingent on getting an overpass to the proposed site, at Jesken Road which is midway between the Island View and Mount Newton intersections on the Pat Bay Highway.
So far, the provincial Ministry of Transportation has not publicly said if it will fund the highway changes needed for the Tsawout shopping centre.
First Nations do not pay taxes to the municipality and do not have to abide by municipal bylaws.
Coun. John Garrison said large developments on neighbouring Tsawout and Tsartlip land would have major impacts on the entire Central Saanich community.
"We have to be if not competitive, to at least be able to attract similar industries here as well."
Garrison said the bylaw amendment has created a "tempest in a teapot. ... It's a minor amendment. I don't believe it's going to change the world."
Any applicant — councillors said so far there are none — would have to present plans to council, municipal staff and the community for approval.
Coun. Carl Jensen said the bylaw amendment "broadens our opportunities and gives us options if they come through the door."
Councillors Adam Olsen and Zeb King voted against the changes, saying a comprehensive review of policies affecting development should be done.
"The message that we are "open for business" could have been much stronger if we took a closer look at all the policies," Olsen said. "Instead we've singled out one policy. ... We should do a better job of planning, to be quite frank."
Those who voted in favour of the change — councillors Ounsted, Jensen, Garrison, Terry Siklenka and Mayor Alastair Bryson — agreed more planning is needed.
"We all said there is more work that needs to be done," Bryson said. "This is only one change, it's not a complete planning exercise."
kwestad@timescolonist.com
We thought you might also be interested in..