City staff pan low-cost housing project
Apr 19 2012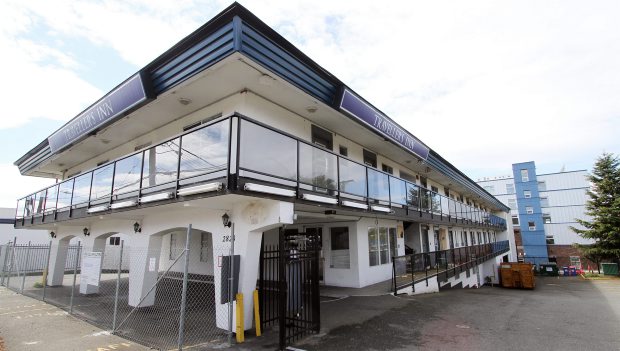 The former Travellers Inn at 2828 Rock Bay Ave. would be converted into 55 rental units.
Photograph by:
Adrian Lam, timescolonist.com (April 2012)
A proposal to convert a Rock Bay motel into low-cost rental housing is being recommended for rejection by Victoria planning staff.
2828 Rock Bay Joint Ventures wants to convert the existing three-storey, 41-unit former Traveller's Inn at 2828 Rock Bay Ave., adjacent to the Cool Aid Society's purpose-built Rock Bay Landing shelter, into 55 rental units.
The new units, aimed at working singles, would range from 221.4 square feet to 551 square feet and would rent from $600 to $750 a month. The additional units could be provided without expanding the building's footprint because there is undeveloped space within the building.
But city staff are suggesting it not be forwarded to public hearing for a number of reasons.
Top of the list is that the site is not identified for residential use in either the Burnside Neighbourhood Plan or the Official Community Plan - both of which earmark the area for industrial activity.
While city staff say criteria for conversion are partially met in terms of unit size, proposed mix of units, storage, accessibility, security and laundry, they say the proposed development has insufficient parking, green space and landscaping.
"It's disappointing," said Roger Tinney, project planner for the applicant, adding that it's difficult trying to revitalize an existing building designed for a specific use that is, in terms of the future neighbourhood plans, essentially non-conforming.
"What do you do with it?" Tinney said. "Do you try to carry on in the residential direction, somewhat at odds with the current plan policies? Or do you demolish the building or try to convert it to something else, which, as you can imagine, is very difficult."
Coun. Lisa Helps, who sits on the planning committee, said she finds it somewhat "puzzling" that Rock Bay Landing - which includes a couple of units of transitional family housing - would be considered appropriate land use in the area but the proposed apartment is not.
"Generally, my feeling is that if buildings are un-or under-utilized, which this one is, it's better to have them in play than not in play at all," she said, citing reasons from property tax revenue to affordable housing.
"Sometimes, we have to do things that don't appear to make sense in the moment and may not fit with plans," Helps said.
Coun. Pam Madoff, who also sits on the planning committee, said she would likely recommend a presentation be made to the entire council rather than just to the three-person committee.
The application comes as the city is undertaking $1.7 million in renovations to its own former Traveller's Inn at 710 Queens Ave. - now called Queens Manor - to convert it into 36 units of supportive housing.
That project came under the spotlight during last November's municipal election, after council rejected an application by developer Mike Kelly to convert his former Traveller's Inn at 3025 Douglas St. into low-income rental apartments.
Some councillors initially said Kelly's proposal amounted to substandard housing, but Kelly charged they were being hypocritical by approving the city's conversion but rejecting his.
He has modified his application - reducing the number of units to 42 from 45 and reconfiguring 13 of the smallest units.
His new plan was recommended by councillors for public hearing, which has not yet been held.
bcleverley@timescolonist.com
We thought you might also be interested in..