Drinking fountains OK'd for Galloping Goose and Lochside trails
Apr 19 2012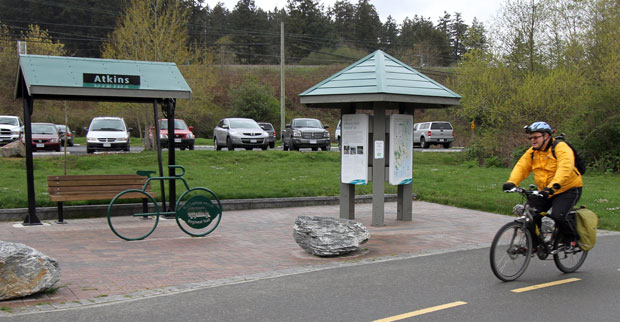 Cyclists on regional trails will soon have drinking fountains to help quench their thirst.
Photograph by:
Bruce Stotesbury, Victoria Times Colonist , timescolonist.com
Trail-side drinking fountains are coming to the Galloping Goose and Lochside regional trails.
The Capital Regional District's parks committee approved several projects Wednesday, including spending $55,000 on the installation of nine fountains — three this year and six next year.
Money for the drinking fountains — the location of which is yet to be decided — is being raised by a group of runners calling itself Drop in the Bucket.
Other capital projects in the works include:
-- E&N Rail Trail — About $5 million to continue work on the E&N Rail Trail, including the opening by this fall of a section from the Admirals-Colville intersection to Esquimalt Road. (Funding is coming from gas tax grants and capital reserves.)
-- Beaver Beach sewer line — $440,000 from capital reserve funds to install a new Beaver Beach sewer line and hook it to the community sewer. (Completion scheduled for early 2013.)
-- Beaver Beach toilet — Replace the existing toilet and connect to new Beaver Beach sewer line. (Estimated cost is $75,000 from capital reserve.)
-- Swan and Brett trestles resurfacing — $50,000 from capital reserves to investigate options for resurfacing and to resurface one Lochside Trail trestle.
-- Thetis Lake Pistol Range remediation — $500,000 of the estimated $750,000 cost of remediation of the old pistol range is budgeted to be spent in 2012. Timeline is subject to parks committee direction.
-- Thetis Lake Lakeshore Trail upgrade — The lakeshore trail upgrade around Upper Thetis Lake will be completed this year with $110,000 from the capital reserve. The trail along Lower Thetis Lake was upgraded in 2009 and 2010.
-- Jordan River Regional Reserve — Pending the transfer of two parcels of land acquired by the CRD four years ago in Jordan River secure the site to mitigate risks and liabilities. (About $100,000 from the capital reserve)
-- Todd Creek Trestle — $300,000 worth of maintenance to the historic trestle, half from capital reserve and half through a grant. Work to start in October.
bcleverley@timescolonist.com
kwestad@timescolonist.com
We thought you might also be interested in..