Code-breaker spills secrets of toiling at Bletchley Park
Apr 19 2012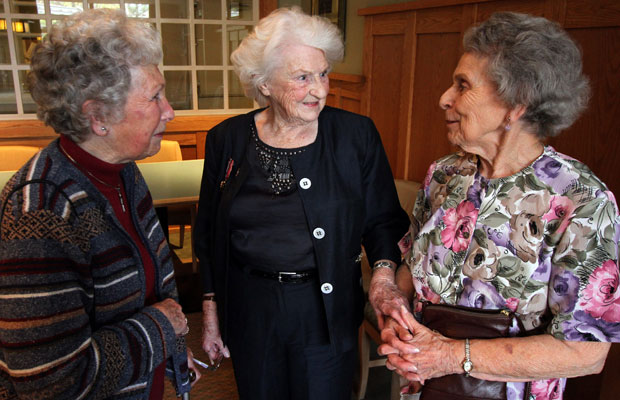 Olive Bailey, centre, speaks with Edna Steel, left, and Lil Sotheran at Berwick House on Shelbourne Street on Wednesday. Bailey worked deciphering German codes in the Second World War.
Photograph by:
Bruce Stotesbury, timescolonist.com (April 2012)
When Olive Bailey was 19, she was sworn to silence about her job as a code-breaker.
But today, at 91, she's telling seniors who remember the Second World War, as well as others who don't, what life was like for her and her family.
"For so long, we couldn't joke about what we did," said Bailey on Wednesday morning, before speaking to seniors at Berwick House on Shelbourne Street. She will give another talk Tuesday at 2: 30 p.m., at Berwick Royal Oak (4680 Elk Lake Dr.).
Bailey, who moved from Britain to Victoria in the 1960s with her husband, Dr. Norman Bailey, attained an accelerated degree in mathematics, graduating at 19.
When war broke out, nearly everyone - including women under 40 - was called up to serve.
"We were both called up on the same day, my mother and I," she said.
Bailey was sworn to silence - she couldn't even tell her family what her mission was, and it would be decades before the British government allowed people to talk about their work - and sent to a guarded facility called Bletchley Park, between Oxford and Cambridge universities.
She was among army and air force code-breakers who worked around the clock to decipher German messages. They used rudimentary computers to help break the ciphers, giving the Allies an advantage that would help change the course of the war.
"One of the computers they built was called Colossus and had huge wiring on the outside of it," Bailey said. "I had to stand on chairs [to use it]. It was like plugging in light bulbs."
The Bletchley code-breakers are widely credited with helping to sink the German battleship Bismarck.
Bailey describes her day-to-day work as "a very, very tense, intensive job.
You didn't think of anything else other than what you were doing."
Getting to and from her workplace was a challenge in itself. Bailey remembers "going to work in the morning and you'd be skipping around the broken glass on the sidewalk from the bombing the night before."
The family home on the outskirts of London was not spared the bombing raids that destroyed much of the city.
"We were bombed and bombed and bombed," Bailey said. "The back of our house was bombed and they replaced it with plywood. I really don't think we could have gone on much longer.
I'm glad the war ended when it ended.
"If it hadn't been for the fact that Canada sent its troops over when it did, I would not be talking to you now."
Bletchley Park is now considered one of the most important historic sites in Britain. A multimillion-dollar renovation is underway.
smcculloch@timescolonist.com
We thought you might also be interested in..