Rock Bay motel housing plan to go to Victoria council
Apr 20 2012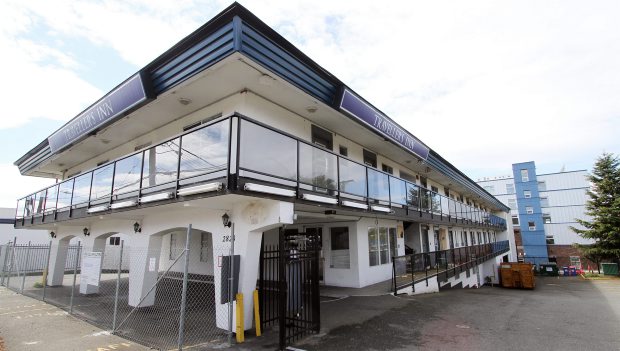 The former Travellers Inn at 2828 Rock Bay Ave. would be converted into 55 rental units.
Photograph by:
Adrian Lam, timescolonist.com (April 2012)
Victoria council will hear a full submission from the developer next week on a proposal to convert a Rock Bay motel into low-cost rental housing.
Although city staff recommended the proposal to convert an existing three-storey, 41-unit former Traveller's Inn at 2828 Rock Bay Ave. into 55 rental units be declined, the planning and land use standing committee voted instead Thursday to forward it to council.
Council will decide if it wants to advance the proposal to a public hearing.
The former motel is adjacent to the Cool Aid Society's purpose-built Rock Bay Landing shelter. The proposed new units would be aimed at working singles and would range in size from 221 square feet to 551 square feet. The rent would be from $600 to $750 a month.
Staff said the site is not identified for residential use in either the Burnside Neighbourhood Plan or the Official Community Plan. They identify the area for industrial activity.
Coun. Lisa Helps noted that the Burnside Community Association was "relatively in favour" of the change, with seven of nine responses supporting it. It's a small response, Helps said, but "sometimes we need to a look at what the neighbourhood is saying and not only community plans."
kwestad@timescolonist.com
We thought you might also be interested in..