'Heartbreaker' as fishing derby cut
Apr 21 2012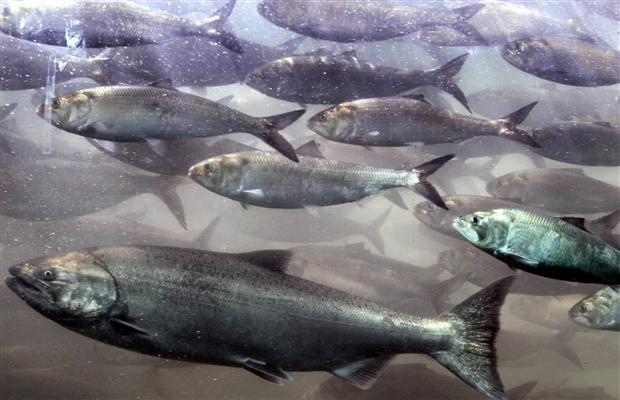 A chinook salmon, along with a school of shad, pass through the viewing room at McNary Lock and Dam on the Columbia River, June 7, 2005 near Umatilla, Oregon. Fishermen in B.C. are worried about "draconian" restrictions on fishing for chinook salmon.
Photograph by:
Jeff T. Green , Getty Images
A Father's Day fishing derby that usually generates about $400,000 for the Greater Victoria economy was cancelled Friday because organizers cannot find out if they will be allowed to catch chinook salmon.
Sports fishers are waiting anxiously for a decision from Department of Fisheries and Oceans on a possible summer closure of the chinook fishery in Juan de Fuca Strait because some of the fish caught are from depleted Fraser River runs.
"This is a very sad day," said George Wetherell, who has organized the Juan de Fuca Salmon Championship for 25 years. "But we were just running out of time to put on an event this large."
Wetherell said organizers of other, smaller chinook derbies are also likely to cancel events.
About 700 people would have taken part in the June 17 derby, with participants and sponsors from across Canada.
In a letter to organizers, DFO regional director Susan Farlinger said consultations are continuing with First Nations, commercial and recreational fishermen.
"A suite of management measures is being planned to address expected low returns," she said.
DFO could not say Friday when a decision is expected, but a spokesman said previously that a decision would be made this month.
That is not good enough, Wetherell said. "It's just terrible mismanagement and I don't think it's going to be good news when it does come," he said. "I have a feeling it's going to be shut down until the beginning, if not the end, of July."
In a letter to DFO, Wetherell said a decision should have been made at the beginning of the year.
"As founder and president of this derby, I will not put my business and family life on hold to slam together this event due to poor management and the timelines of someone else," he wrote.
The derby, which has strict rules about fishing times and the size of fish caught, takes place from Sheringham Point to William Head and culminates in a banquet at Juan de Fuca Recreation Centre.
Many sports fishers take part with their sons and daughters, said Darren Wright, co-owner of Island Outfitters, who was looking forward to fishing with his 12-year-old son.
"It's my favourite weekend of the year. It's a tradition for us. This is a heartbreaker, a total heartbreaker," he said.
"DFO doesn't care. They are not showing any respect for us."
At a noisy meeting in Langford last month, hundreds of sports fishers passed a motion not to accept further restrictions on the Juan de Fuca recreational fishery, saying more cuts would cause the collapse of the southern Vancouver Island sports fishery.
Wright said more fishing licences are sold in Victoria than anywhere else in B.C. and DFO is failing to recognize the economic impact of the uncertainty.
"I have four guys that come out from Toronto each year and spend about $15,000. The economic spinoff is so huge," he said.
jlavoie@timescolonist.com
We thought you might also be interested in..
Notice
: Undefined index: event in
/home/viccity/public_html/v2/content.php
on line
67