Arrest made in killings of two Duncan women
Apr 21 2012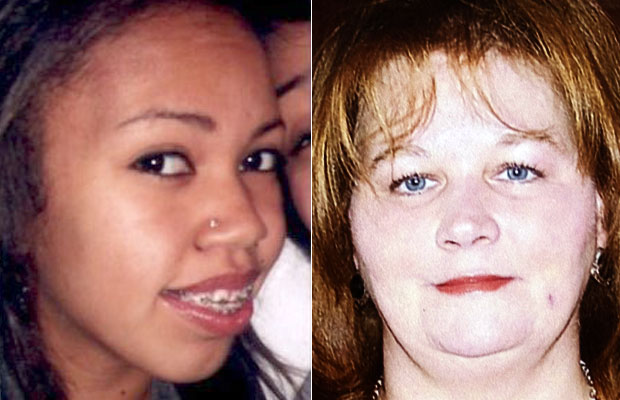 Slaying victims 18-year-old Tyeshia Jones, left, and 42-year-old Karrie Ann Stone of Duncan
Photograph by:
Family photos , ...
The RCMP have made an arrest in the killings of two Duncan women, 18-year-old Tyeshia Jones and 42-year-old Karrie Ann Stone.
Police have not released the name of the suspect but said details will be made public at a press conference Saturday. The killings took place in 2010 and 2011 within seven months of each other and about a kilometre apart. Investigators have never said whether the killings were random, targeted or sexually motivated. The cause of death in each killing has not been revealed.
According to a media release, B.C. RCMP Chief Supt. Wayne Rideout and Supt. Jim Gresham "will speak to the details of the case and recent arrest" at the press conference. Family members of both victims have been invited to attend.
Jones, a member of the Cowichan Tribes who still wore braces, was killed on Jan. 22, 2011, sometime after she left a friend's party on Miller Road. The oldest of four children, she was heading toward the Superstore on the Trans-Canada Highway to meet a friend when she disappeared. Dozens of people searched for her for a week. Her naked body was found on Jan. 28, 2011, in a wooded area near the Shaker Church cemetery off Indian Road on Cowichan Tribes land.
At the time of her death, her mother Mary Jim called Jones her angel. "She was my whole world," said Jim.
Stone, 42, lived at the Super 8 Motel on the Trans-Canada Highway in Duncan. Friends said she struggled with drug addiction, but was trying to turn her life around. Her mother, Bev Stone, said her daughter was a kind and gentle person.
Stone was last seen at the motel around 7 p.m. on July 7, 2010. Her charred remains were found four days later, in a wooded area in Glenora.
The Vancouver Island Integrated Major Crime Unit led the investigations, with the help of Duncan RCMP.
Jones' uncle Joe Thorne said he learned Friday that police had arrested a suspect.
"Mary phoned me," said Thorne. "And she was very excited to know she was going to get the closure that she's been looking for and the justice for her daughter, but still feeling saddened because she would rather have had her daughter here.
"Her biggest concern was the feeling that any parent would carry — of guilt that she was not there when her daughter needed her the most."
Thorne, a Cowichan Tribes elder, said he and Jim have talked about doing something for closure when all this is over.
"That's all she's wanted since this whole nightmare started, was closure and justice,"
Thorne said he spoke to RCMP Insp. Kevin Hewco about a week ago and was told police were getting ready to move on the case.
"It was like getting hit in the face with a bucket of melted ice water," said Thorne. "I had to leave the meeting I was in to cry."
Because their deaths were highly publicized, Jones and Stone brought a lot of people together, said Thorne.
For the last two years, Duncan community members have organized a Take Back the Night walk in honour of the slain women. The victims' mothers spoke at the event in February, advocating for better protection for women against violence.
kderosa@timescolonist.com
ldickson@timescolonist.com
We thought you might also be interested in..