Big crowd gathers at Centennial Square for annual celebration of marijuana
Apr 21 2012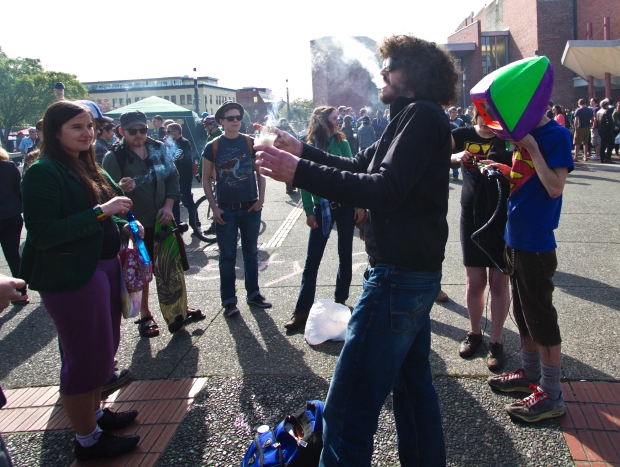 Smokers light up for the big pot smoke-in at Centennial Square to mark 4/20 at 4:20pm on Friday, April 20.
Photograph by:
Darren Stone, Victoria Times Colonist , timescolonist.com
It was a Ganja get-together.
More than one thousand people gathered in Centennial Square Friday to protest Canada's marijuana laws and attend 4/20, an annual celebration of cannabis culture.
Hundreds of teenagers, many as young as 13 and 14, sat in circles at the foot of the huge tree in Centennial Square, passing joints — but not comment on why they think marijuana should be legalized.
A grinning Ted Smith, proprietor of the Cannabis Buyers' Club of Canada, wasn't so shy. Smith said he'd been smoking all day and felt awesome.
"4/20 is a day to smoke pot and celebrate the herb and each other and relax," said Smith. "It's not a political event. It's not time to rally the troops. It's just a time to sit back, smoke some joints and enjoy the company of friends."
Young kids always show up at the event, said Smith.
"I don't think kids under 16 should be smoking pot. It's not good for their health, mentally or physically. The science seems to suggest if you're over that, you're physically and mentally not as susceptible to mental health issues or other health problems.
"Certainly, any parent with a kid under 16 should be really concerned about what their kid is doing today at 4/20."
Dr. Tim Stockwell, director of UVic's Centre for Addictions Research of B.C., said the rates of cannabis use by youth are now higher than they are for tobacco.
Marijuana users have embraced the term 4/20 for decades, with some saying it means it's good time to smoke and celebrate marijuana at 4:20 on April 20. The origins of the term are murky, but have been traced to California where 4/20 was said to be code for marijuana in the 1960s.
We thought you might also be interested in..