E&N in it for the long haul
Apr 22 2012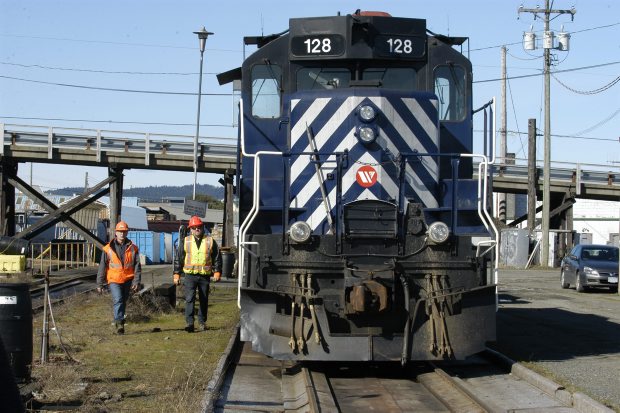 The Island Corridor Foundation plans to upgrade the E&N track to freight standards as the line's operator, Southern Rail, gains business.
Photograph by:
Krista Bryce , Nanaimo Daily News
A $15-million government investment last week will restore passenger service on the E&N Railway, but sustaining the line in the long term will be a challenge.
Repairs to the track are scheduled to start this summer with plans to have passenger service, which was suspended last April, operating as early as next spring.
The money is also considered a saviour for the line's operator, Southern Railway, which now has a chance to claw its way back into the freight market. That, however, could be a challenge, according to a provincial government study from 2010. The freight analysis suggests success for the E&N, which is owned by the Island Corridor Foundation, hinges largely on companies turning to trains to ship their products, including coal, and pulp and paper.
But for the operators, there is little doubt that freight will move from the Island's highways and onto its rails.
"Now that we have the passenger rail established, it allows us to go about rebuilding the freight business," said Frank Butzelaar, president of Southern Railway. "We're starting basically from scratch and we're building a business."
The Island Corridor Foundation plans to restore portions of the track to meet freight standards as the operator attracts new business.
Southern Railway's plan relies heavily on reopening the Port Alberni line, which connects to the main E&N corridor near Parksville. To do that, the operator is banking on Compliance Energy Corporation's planned Raven Underground Coal Project.
Compliance Energy is conducting an environmental assessment for the proposed mine located five kilometres west of the Buckley Bay ferry terminal. Port Alberni stood out among six other locations examined by Compliance because it has a berth big enough for the large ships that use the Panama Canal.
Should Southern Railway attract existing mining operations on Vancouver Island to use trains to ship their product, that could translate into 10,000 to 15,000 rail cars a year, according to the government report.
That's a significant increase from the approximately 900 cars Southern currently moves up and down the Island. The government's analysis estimates the company would need 20,000 car-loads a year and revenue reaching about $15 million to sustain an independent freight service.
"In order for the line to Port Alberni to open, we need a long-term agreement with Compliance Energy," said Butzelaar.
Compliance will proceed with its environmental assessment based on truck shipment, but president and CEO John Tapics has not ruled out rail.
That's because "there's a road in place and there isn't the rail that's at the standard that is necessary," he said. "But just because we're trucking now doesn't preclude us using rail later."
The ministry report also looks at the potential of gaining freight customers in the forestry sector.
Shipping lumber, however, may not be a viable option, because customers and suppliers want the product to be handled as little as possible, according to Coast Forest Products Association.
Moving finished products from a mill to the train would require loading them onto trucks, which creates "unnecessary handling," said Rick Jeffery, president and CEO of Coast Forest Products Association. "We don't use the railroad and likely wouldn't because it doesn't lend itself to moving our products," he said.
Catalyst Paper's pulp and paper mill in Port Alberni is another potential rail client, should the Port Alberni line reopen.
Catalyst ships about 360,000 tonnes of paper out of the Alberni Valley by truck each year. While the financially strapped company works with local government to reduce its tax rate, management would consider any option to reduce operating costs.
Catalyst, however, has a highly efficient system using trucks to ship about 1,000 tonnes of paper a day to ports, where it is transferred to vessels that carry the product to the company's distribution centre on the Lower Mainland. Rail service would have to provide equivalent service with competitive prices.
"For some of our customers, we need the product out every day," said Bob Lindstrom, Catalyst's vice-president of supply chain energy and information technology. "We are always interested in alternatives to improve our costs, but we're yet to see the business model that can show us that."
Graham Bruce, chief operating officer of the Island Corridor Foundation, recognized the challenges the line owners and operator face in the coming years, but said they would not be attempting to save the line if they were not confident it could be done.
"It was difficult to approach people and ask them if they're interested in rail when we didn't know the line was going to be around," Bruce said. "With the government funding, we know it's going to be there and we can start to attract new business and continue to invest in the E&N."
There are more incentives for companies to switch to freight trains, say E&N proponents. Vancouver Island has more rail access to international markets than ever before because Southern Railway also operates the Annacis Rail Marine Terminal in Delta. This new link allows for more frequent rail service with the ability to ship product daily from Vancouver Island.
The facility links to both local and deep-sea shipping, and has access to four major railway companies: Canadian National, Canadian Pacific, Burlington North Santa Fe and Union Pacific.
Given this new access to world markets and the government investment in rail on Vancouver Island, the Nanaimo Port Authority wants to restore its rail spur between the E&N line and the Assembly Wharf.
The spur was removed in the 1990s, but the remaining track bed could easily be opened once again, according to port authority management. "Having the railway is a great advantage and the opportunities are available, now that we can actually use it," said Bernie Dumas, president and CEO of the Nanaimo Port Authority.
dspalding@timescolonist.com
We thought you might also be interested in..