Nic Twiddy, car crash victim, remembered for his music, poetry and joking
Apr 22 2012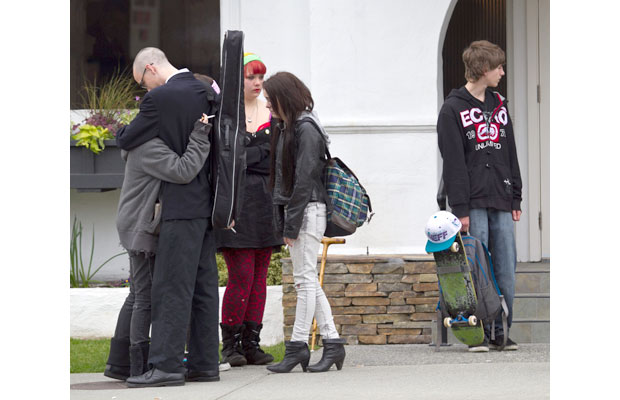 Friends comfort one another after a funeral Thursday for Nic Twiddy, who was killed in a car crash in Sooke.
Photograph by:
Darren Stone , timescolonist.com (April 2012)
Two weeks ago, you could usually find 15-year-old Nic Twiddy surrounded by friends, listening to music, playing video games or writing poetry. He'd be dressed in his signature style: coloured jeans with criss-crossing checkered belts, a bandana or brand-name hoodie.
He'd probably be laughing, making a goofy face for the camera or cracking a joke.
On April 9, that all changed. That Monday, around 10:15 a.m., Twiddy was killed as he sat in the back seat of a stolen blue Chevrolet Cavalier that crashed and flipped on Sooke Road after hitting a patch of gravel at high speed.
At his funeral Thursday, friends and family packed the Sands of Victoria Funeral home to remember the compassionate and caring teen.
His mother, Lisa, and sisters Brittney, Carmin and Rigo sat in the front row, holding each other and wiping their eyes with tissue.
Many of Twiddy's classmates from Edward Milne Community School, where he spent most of his high school years, wore bandanas in his memory.
Pastor Yvonne Archer read aloud stories compiled by family and friends. He once skipped school for half a day, knowing he'd face a scolding from teachers and his mother, because he wanted to console a friend going through family troubles. After school, he loved to longboard, play X-box or spend time with his girlfriend, Nicole Prowse.
Twiddy was known for the shaggy mop of chestnut brown hair that fell into his eyes or poked out of his hat. But one day, Archer said, he came home with it all shaved off. His school was raising money for multiple sclerosis and pledged to triple the donations if Twiddy would shave his beloved locks. He did, in front of the whole school.
Twiddy had a creative side, as well. He loved to write poetry — "He could write something that brought a tear to your eye," Archer said — which he someday envisioned crafting into song lyrics. He was a whiz at mixing music and his friends thought he'd make a good DJ.
"The kids had some really great stories, some of them couldn't stop talking," his mother, Lisa Twiddy, said via email, referring to memories friends shared the day before the funeral. "Everyone will miss him." She declined an interview with the Times Colonist.
Twiddy was born in Maple Ridge on May 30, 1996, but lived all over Canada, including Toronto, Burnaby, Maple Ridge, Abbotsford, Campbell River and finally Sooke, where he went to middle school and high school.
Maria Forbes, the 15-year-old who was sitting in the back seat with Twiddy and had to be airlifted to hospital with serious injuries after the crash, gave a tearful eulogy.
"I miss having someone who could give and take advice, who asked for help when [he] needed it, and also did everything he could to help. I don't think I ever got to tell him how much I appreciated it and for how a long time he was the only friend I had," she said.
Her boyfriend, Steve Livingstone, the 18-year-old in the front seat during the crash, was also at the service, limping heavily, supported by a cane.
An 18-year-old Sooke man believed to be the driver of the stolen car is facing charges of possession of stolen property. Sooke RCMP are handling the criminal investigation and more serious charges of dangerous driving causing death could be laid.
Twiddy's family is accepting donations to Nic's Memorial Fund. Cheques payable to Lisa Twiddy can be mailed to Sands of Victoria at 1803 Quadra St., Victoria, B.C. V8T 4B8.
kderosa@timescolonist.com
We thought you might also be interested in..
Notice
: Undefined index: event in
/home/viccity/public_html/v2/content.php
on line
67