Victoria police turn to Facebook in bid to return stolen property
Apr 24 2012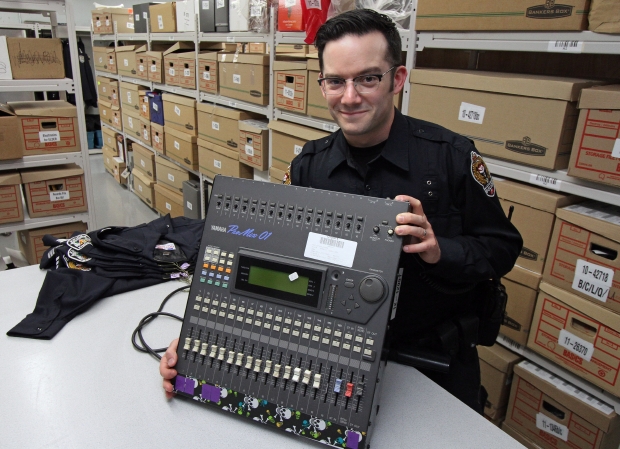 Const. Mike Russell with a music-mixing board Victoria police want to return to its owner via a display on Facebook: "This is a test. We're hoping to see how it goes," Russell said.
Photograph by:
Bruce Stotesbury, Victoria Times Colonist , timescolonist.com April 23, 2012
Facebook could be the new face of the Victoria Police Department, at least when it comes to returning stolen property.
Const. Mike Russell says the department is looking at the social networking service as a possible means of getting things back to their rightful owners as quickly as possible. The approach appears to be unique.
"I'm unaware if anybody else does it," Russell said. "This is a test. We're hoping to see how it goes."
For a start, pictures of items recovered through a pair of searches carried out last week on Admirals Road have been posted. The items were found in a sweep through a pair of apartment suites linked to the sale of illegal drugs.
The haul included a large amount of stolen goods, at least some of which police believe were accepted in exchange for drugs.
A music-mixing board and a pair of electric guitars from the Admirals Road operation are already up on the VicPD Facebook page at facebook.com/victoriapolicedepartment. Russell said it helps when posted items have some "distinguishing features" that owners can refer to in claiming their belongings.
The mixing board, for example, has a strip of skulls on one end, he said.
"I hope it doesn't, but it could all crumble," Russell said of the Facebook effort. "If 400 people call and claim a guitar, the investigator doesn't have time to go through all that."
Russell credited Const. Kevin Nystedt, a member of the street-crime unit, with the idea of giving Facebook a try.
jwbell@timescolonist.com
We thought you might also be interested in..