Man accused of killing two Island women is husband, father and a forest firefighter
Apr 24 2012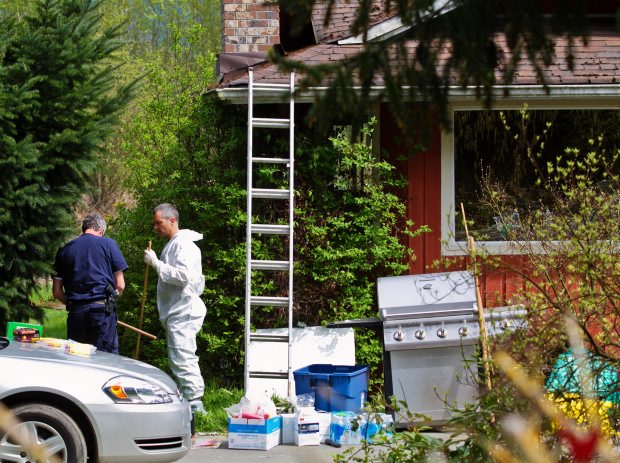 Police search for evidence in two homicides at William Gordon Robert Elliott's home on Mission Road in Duncan
Photograph by:
Darren Stone , timescolonist.com (April 24, 2012)
The man accused of killing two Duncan women - 18year-old Tyeshia Jones and 42year-old Karrie Ann Stone - is a husband and father, well-known in the Cowichan Tribes Community.
William Gordon Robert Elliott, 24, remains in police custody and is charged with two counts of first-degree murder.
The mothers of Jones and Stone say they believe Elliott didn't know their daughters.
However, Elliott does know Jones's cousin, 23-year-old Bruce Jim.
"Words can't really explain [how I feel]; I grew up with the kid," Jim said of Elliott.
Elliott had a troubled childhood, growing up in foster care as his father struggled with substance abuse, Jim said.
Jim met Elliott when they attended Quamichan Middle School, but the two lost touch when Elliott stopped going to high school classes.
Elliott's great-uncle, Ed Elliott, said the family is in a state "of shock and confusion."
Elliott, a forest firefighter, spent most of his life in Duncan but lived in Victoria for a brief period before moving back around 2009 or 2010, Jim said. He married Oddessa Modeste and moved into her home with her young son on Mission Road.
Elliott's home at 5413 Mission Rd. was behind police tape for the fourth consecutive day Monday, as major crime detectives and forensic investigators from Vancouver Island and the Lower Mainland continued to gather evidence.
Elliott was arrested at his home on Friday.
Island district RCMP spokesman Cpl. Darren Lagan would not say whether any weapons or vehicles were seized from Elliott's home.
The single-storey, rust coloured house, with a two-car garage, is on a large property surrounded by old bikes and discarded items. There is a blue Thunderbird in the driveway and a Ford pickup truck.
Modeste, who is in her 20s, and her elementary-school-age son are staying with her grandmother while the investigation continues, a relative said.
Modeste's family was shocked by the arrest. One relative said everyone is torn because the accused is a Cowichan Tribes member.
"We're glad [someone has been arrested], but we're sad at who it is," said the man, who did not want to give his name. "We see stuff like this in the news, but it hits home when it happens to you."
A next-door neighbour and cousin of Oddessa, Hubert Modeste Jr., said he was questioned by police Friday about Elliott. He said Elliott used to drive his pickup by the house and wave, but in the past year and a half Elliott became more remote.
He said he would hear Elliott and his wife have people over for parties, but never heard the two arguing. "I was surprised [at the arrest] because he's our neighbour and we have kids here."
Cowichan Tribes members are torn after learning that one of their own could be responsible for the two deaths, said Chief Harvey Alphonse.
"The sense in the community is that there is some peace, now that we know someone has been apprehended," he said. "I believe that the healing journey can begin for both families. They do have a long road ahead of them yet, but our prayers and our love go out to both families."
Cowichan elder Arvid Charlie urged band members not to seek their own justice and warned everyone to brace for horrific details.
"I do need to caution all of us not to take revenge. ... Let the law handle that part," he said. "In court, we're going to hear some very terrible things that have happened. We need to prepare ourselves for that day."
Elliott is to appear in court May 22.
Motives behind Duncan killings remain unclear
One man remains behind bars for the killings of two Duncan women, but the motive for the brutal killings of 18-year-old Tyeshia Jones and 42-yearold Karrie Ann Stone seven months apart remains a mystery.
William Gordon Robert Elliott, 24, is charged with two counts of first-degree murder.
Police have not said whether the killings were random or targeted, but the mothers of Jones and Stone both said they don't believe Elliott knew their daughters.
Jones's uncle Joe Thorne, a Duncan city councillor, said he has long believed the two murders were linked because the bodies were dumped just one kilometre away from each other, in rural parts of Duncan he believes only a local would know.
Stone's charred body was found July 12, 2010, in a wooded area in Glenora. Jones's naked body was found Jan. 28, 2011, in a wooded area near the Shaker Church cemetery off Indian Road.
Jones was killed sometime after she left a party on Miller Road around 3 a.m. Jan. 22, 2011. She was planning to meet a friend at the Duncan Superstore but never made it.
It's not known whether her killer was at the party that night, or whether he targeted Tyeshia or came across her by chance in the dark secluded area.
Elliott's address was 5413 Mission Road, almost two kilometres away from the Super 8 Motel at 5325 Trans-Canada Highway, where Stone lived and was last seen on July 7, 2010. Jones's home on Quamichan Road was almost four kilometres north of Elliott's.
Many in the community remain convinced someone else was involved in the homicides, but RCMP investigators said they don't expect more arrests.
Police refuse to release the causes of death or say whether they were sexually motivated.
"Throughout these investigations, we were mindful of the need to provide communities of the Cowichan Valley with as much information as we could in order to address public fear after these disturbing homicides," Supt. Jim Gresham, officer in charge of the B.C. RCMP major crime section, said at a news conference Saturday.
"We had to strike a balance between what could be said and what was required to absolutely protect and maintain the integrity of the investigations."
Gresham said the arrest was made after "thousands of investigative man-hours, hundreds of interviews, detailed forensic analysis and specialized investigative techniques."
"This arrest brings the [families] one step closer to understanding what happened to their loved [ones], yet their painful journey is far from over," Gresham said.
Jones's mother, Mary Jim, said despite her relief at an arrest, she's still left with more questions than answers.
She can't make sense of what links Elliott might have had to the two women. Jones was getting ready for college and had a supportive group of friends. Stone struggled with drug addiction but was trying to turn her life around.
"I thought [Stone's murder] was more drugrelated, and my daughter didn't do any of that. She was setting up for college and ready to make something of herself," Jim said.
"I'll just have to hear it in court - where he picked her up, why she ended up where she was and [why she was] left nude."
Stone's father, Bob Stone, said he's expecting to learn more about what happened to his daughter when the case goes to trial.
"There's always something in the back of your mind that you would like the answers to and, hopefully, I will get those in the long term."
kderosa@timescolonist.com
dspalding@timescolonist.com
We thought you might also be interested in..