Still time to register for Sunday's Times Colonist 10K
Apr 25 2012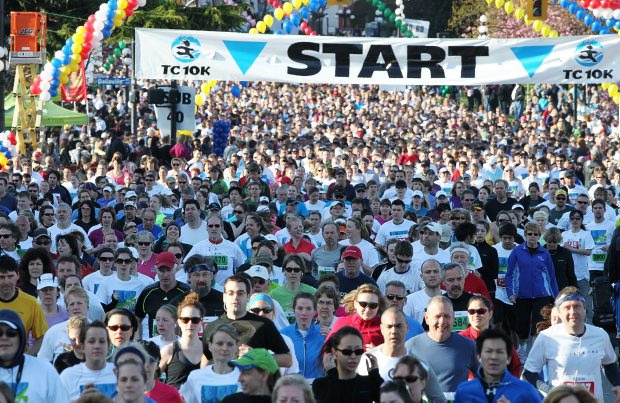 About 11,800 runners are registered for the Times Colonist 10K. Residents can expect traffic and parking delays.
Photograph by:
Adrian Lam , timescolonist.com (2011)
Thousands of walkers, runners and wheelchair athletes are counting down the hours until the Times Colonist 10K takes place on Sunday.
About 11,800 people are registered in the event and there's "absolutely" still room for last-minute entries, said organizer Jacqui Sanderson.
Online individual registration closes at midnight tonight, but sign up at the Fitness Expo at the Delta Ocean Pointe Resort takes place Friday and Saturday.
Race packages can be picked up at the hotel on Friday from noon to 7 p.m. and Saturday from 10 a.m. to 6 p.m.
The race starts Sunday morning at 7:50 a.m. for wheelchair athletes, 8 a.m. for runners and walkers, and 11 a.m. for the Thrifty Foods 1.5-kilometre family run.
Road closures will start Sunday at 7:50 a.m. and will remain in effect until runners have passed.
Estimated road opening times are:
-- Government at Humboldt, 8:21 a.m.
-- Johnson at Douglas, 8:35 a.m.
-- Vancouver at Richardson, 8:41 a.m.
-- Richardson at Moss, 8:59 a.m.
-- Dallas at Memorial, 9:24 a.m.
-- Dallas at Cook, 9:48 a.m.
-- Dallas at Douglas, 10:14 a.m.
-- Belleville at Oswego, 10:33 a.m.
Residents can expect delays in getting around town as a result of the race. There will be no on-street parking along the race route from midnight until 11 a.m. Sunday. All cars parked along the race route during this time will be towed at the owner's expense.
The event benefits charities including the B.C. Cancer Foundation, Every Step Counts, the Heart and Stroke Foundation, Help Fill A Dream and Raise-a-Reader.
We thought you might also be interested in..