Colwood project puts history up front
Apr 26 2012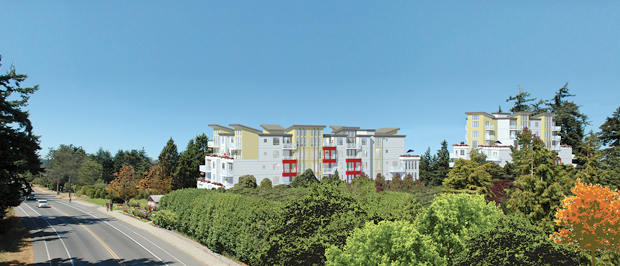 New development in Colwood called 468 Landmark, is being built by Goldstream Projects.
Photograph by:
Supplied photo , timescolonist.com (April 2012)
Developers behind one of Colwood's largest condominium projects have embraced a part of B.C.'s history by preserving one of the earliest structures built in the province.
Municipal politicians joined Greater Victoria developers Jim McLaren and Dave Vidalin of Goldstream Projects to break ground on the 100-unit 468 Landmark condo in Colwood Wednesday.
A 160-year-old dairy and cheese house still stands on the site. The stone structure, built in 1852, is the only remaining building from the old Esquimalt Farm, operated by Capt. Edward Langford and affectionately called Colwood Farm, a nod to his home in England. The heritage piece will become an important component of the project, said the developers.
"We wanted to make sure this part of our history was not lost," McLaren said.
He and Vidalin plan to start construction this month and will move the dairy house to the front of the property near Goldstream Avenue, where the historical reminder of some of the first British settle-ments on Vancouver Island can be showcased.
The first of two construction phases will include an eight-storey, 58-unit building at the rear of the 0.65-hectare property. When there's market demand, a second sixstorey, 42-unit condo will be built with commercial space on the ground floor.
Underground parking, with electric vehicle plug-ins, will connect the two buildings.
A slow recovery from the global economic malaise has not stopped McLaren and Vidalin from building. The two are still selling units at Fairview Green, a few blocks away in Langford.
They also have a 92-unit condo development planned in Saanich after getting rezoning approved by council this week.
Combined, the partners have built about 3,000 residential units throughout Greater Victoria.
They believe the housing market is rebounding, par-ticularly for condos, which offer attractive pricing for newcomers and new opportunities for an older demographic looking to downsize.
"I don't think you can go wrong, if you live on Vancouver Island, as far as building goes," Vidalin said. "If you listen to everybody, the economists and stuff, you wouldn't be doing much. I think we have a strong market and the best place on Earth to live."
The architect of the project designed a building that aims to attract a mixed demographic of young and old residents. Location was an important component to achieving that goal, architect Pradip Misra said.
Misra said the possibility of rapid transit being built in the area appeals to younger buyers.
"For the older people, there are the views in the back overlooking Millstream Creek and even further back, [there is] the [Esquimalt Harbour]."
dspalding@timescolonist.com
We thought you might also be interested in..