New hospitals confirmed for Comox Valley and Campbell River
Apr 26 2012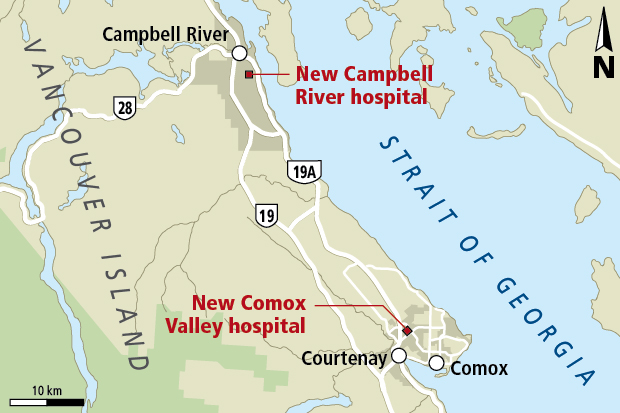 Likely locations for new hospitals in Campbell River and the Comox Valley
Photograph by:
Rob Struthers, Victoria Times Colonist , timescolonist.com April 2012
The B.C. government is announcing two new hospitals for the Comox Valley and Campbell River today.
Premier Christy Clark and Comox Valley MLA Don McRae will make a funding announcement for the projects, worth a total of $600 million, at press conferences this morning and afternoon, government officials confirmed.
Details on level of care at the hospitals, staffing and their exact locations will be part of the premier's announcement.
Funding for the facilities will be a 60-40 split between the provincial government and the regional hospital districts, government officials said.
North Island communities have long waited for replacements for the
50-year-old hospitals in Campbell River and the Comox Valley.
But more than five years after Vancouver Island Health Authority president Howard Waldner first approached leaders in Campbell River and the Comox Valley about building one new state-of-the-art regional hospital, medical services are still being provided by the old hospitals.
The health authority and community leaders have been at odds over what should be built; poor communication between VIHA and the communities has been blamed for the long and controversial process that has finally led to today's announcements.
VIHA submitted its business case for the two new hospitals to the province last year.
The new Campbell River hospital is expected to be built on the same site as the existing facility.
The Comox Valley hospital is proposed for the North Island College site. That location was a backup choice after the Department of National Defence rejected a site on Ryan Road in Courtenay last year because the proposed four-storey building would have been too high for the military's controlled air space.
The Vancouver Island Health Authority will issue a request for qualifications for contractors. The open process is likely to take up to four months and will generate a short list of qualified contractors.
A request for proposals will follow, a preferred proponent will be chosen and negotiations will ensue, a process expected to take about a year.
Construction of the two hospitals is projected to take about three years from groundbreaking to completion.
rshaw@timescolonist.com
ceharnett@timescolonist.com
We thought you might also be interested in..