Are you feeling bookish?
Apr 26 2012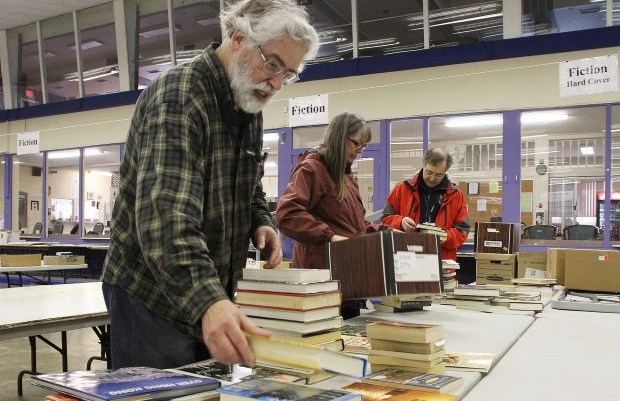 Al Haines, left, and Jane and Beat Murtz sort books, as volunteers start setting up for the Times Colonist book sale set for May 12 and 13 at the Victoria Curling Club.
Photograph by:
Adrian Lam , timescolonist.com (April 2012)
Those extra books stored in homes around the region can once again help the Times Colonist make a difference to schools and literacy groups.
Preparation is underway for the 15th annual Times Colonist book sale, set for May 12 and 13 at the Victoria Curling Club.
This will be the third year organizers of the sale have secured the Quadra Street facility for the bustling event, which routinely attracts huge crowds to pore over aisles of donated books.
But there is plenty to do before sale day, most importantly the staging of the book-collection blitz this weekend.
Last year's sale generated $155,000, said Times Colonist promotions manager Shannon Kowalko. As many as 250,000 books were carefully sorted and stocked by a team of 300 volunteers.
The book sale dates back to 1998, when it was held to help a local school stock the shelves of its library.
The sale has grown steadily and attracted a consistently large following in the years since, with the 2011 version bringing out more than 3,400 people on Saturday alone.
In recent years, book enthusiasts have taken to lining up for hours before the sale gets going.
The first person in line in last year showed up at 3: 15 a.m. in anticipation of the sale's 9 a.m. start, and by the time the doors swung open, the queue extended around the block.
More than $1.5 million has been raised by the book sale since it began.
"It all goes to literacy programs in our community," Kowalko said. Funds are given out through the Times Colonist RaiseaReader program.
More than $350,000 - including funds from the sale and other initiatives and matching provincial government grants - was disbursed to 159 recipients in 2011, Kowalko said. Those included school districts around the Island and groups such as the Victoria READ Society, Literacy Victoria, Saanich Neighbourhood Place and Surrounded by Cedar Child and Family Services.
As always, organizers have a few suggestions about what not to bring when donating books. Those include National Geographic, Reader's Digest, encyclopedias, textbooks and outdated reference material.
Books can be brought to the curling club parking lot from 9 a.m. to 3: 30 p.m. on Saturday and Sunday.
Donors are asked to stay in their cars for faster unloading by volunteers, and to pack books in boxes or other containers they do not want back.
Anyone interested in volunteering at the book sale is asked to email sdonnelly@timescolonist.com.
jwbell@timescolonist.com
> On the web: timescolonist.com/booksale
We thought you might also be interested in..