Island residents lauded for good works
Apr 26 2012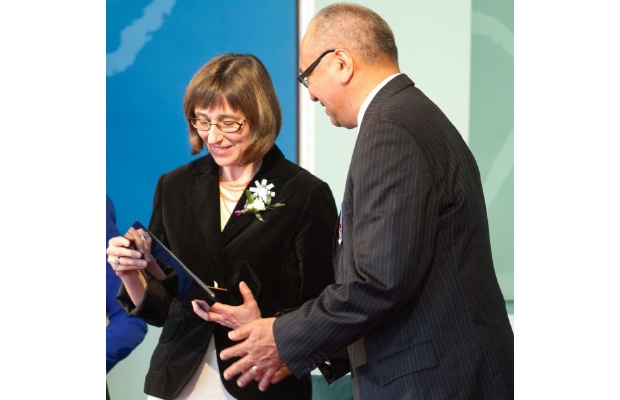 Ewa Czaykowska is presented with a 2012 BC Community Achievement Awards in recognition of her outstanding community contributions by the Honourable Steven L. Point, Lieutenant Governor at Government House
Photograph by:
Darren Stone , timescolonist.com (April 2012)
A University of Victoria professor who is working with First Nations to revitalize their native languages as well as a 40-year probation worker and advocate for restorative justice were among 36 residents receiving B.C. Community Achievement Awards on Wednesday at Government House.
Lt.-Gov. Steven Point and Ministry of Community, Sport and Cultural Development Ida Chong presented medallions and certificates at a ceremony before recipients, family and friends.
"Time is everyone's scarcest commodity," said Keith Mitchell, chair of the B.C. Achievement Foundation, at the start of the ceremony.
He commended the recipients for giving generously of their time and efforts, saying "your work is the engine of a civil society."
Chong said that community service is the backbone of B.C. communities.
"It's an honour to see each and every one of the recipients be honoured in this manner," Chong said. "It's days like this that really make me proud to call myself a British Columbian."
She said that all recipients "have left a legacy that you should be proud of."
Ewa Czaykowska-Higgins of UVic is an associate professor of linguistics with a special interest in revitalizing languages of the Coast Salish people.
She spearheaded the Coast Salish Revitalization Project, in which five First Nations groups formed a partnership with UVic in a quest to reclaim their native languages.
Alan Markwart was hired as a probation officer in 1973 and has since devoted his life to youth issues, including justice and mental health services. He pioneered community-based alternatives to custody and developed restorative justice programs, and oversaw the country's first provincial child and youth mental health plan.
Other Island residents honoured include:
n Roger Barnsley of Parksville, who was lauded for his achievements as president and vice-chancellor at Thompson Rivers University in Kamloops;
n David Sanghyuck Kim of Nanaimo, who has been socially conscious at an early age, volunteering, fundraising and mentoring during his high school years;
n Joe Martin of Tofino, a master carver of the Tla-o-qui-aht First Nation as well as a teacher, mentor and ambassador for Clayoquot Sound and its people;
n Wolfgang Zimmermann of Port Alberni, who oversaw the establishment of the National Institute of Disability Management and Research and the Pacific Coast University for Workplace Health Sciences. He is recognized internationally as a leader in workplace safety and disability management.
The B.C. Community Achievement Awards are sponsored by Postmedia Network. An independent advisory council selects recipients from hundreds of nominations.
smcculloch@timescolonist.com
We thought you might also be interested in..