Tenants being bounced for big reno
Apr 27 2012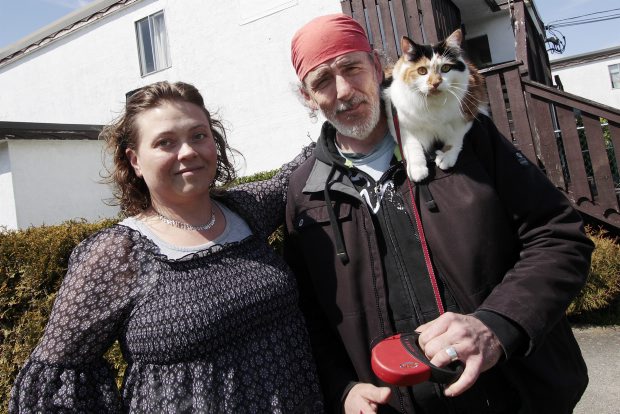 Tenants Hope and Ron Yayahkeekoot and cat Kangg are being evicted to make way for renovations to the 50-year-old building on Quadra Street.
Photograph by:
Lyle Stafford , timescolonist.com
Shocked tenants of a Quadra Street townhouse complex say they have no idea where they will find affordable housing after receiving eviction notices this week.
"Just change my deck, don't evict me," said Ron Yayahkeekoot, as he confronted developer David Fullbrook, managing director of League Capital Partners, in the parking lot Thursday.
But Fullbrook said the 50-year-old units need extensive renovations, ranging from doors, windows and decks to the sewer system, electrical services and stabilization of soil under the complex.
"There's a lot of work to do to get it up to standard. The tenants are paying low rents for substandard housing," he said.
"The hard part is how do you deal with the fact that there is an existing community in place and that you are going to disrupt it. The human element is really a challenge and, the key is, we're working with every individual," he said.
That includes offering tenants discounts on renovated units when the work is completed in six to eight months, although it will not be at the $650 to $750 rent that at least 30 per cent of tenants are paying for their two-and three-bedroom units.
Five or more renovated units will be rented at nonmarket rent and housing agencies have agreed to place some of the most vulnerable tenants, said Fullbrook, who is also linking tenants with Devon Properties to help them search for new homes.
Tenants of the 64 units must find new homes by the end of June. But many are on disability benefits have pets and are finding few equivalent units available.
After the complex sold last June for $6.7 million, tenants were told they could remain during renovations.
"They did say we could stay," said Paula Draper, who has lived in a threebedroom unit with her two teenage children for six years.
"Where do we go? Are they going to help provide housing?"
The eviction notice says: "After careful consideration of the scope of the renovation and the liability associated with an operating construction site, we have determined that we must terminate all tenancies."
Candace Ledger, who receives disability benefits and has a 19-year-old daughter and 17-year-old cat, is looking at basement suites, but has not yet found anything comparable to her current home.
"It's not fair to just throw us out, but people don't seem to be listening to us," she said.
Rob Fleming, VictoriaSwan Lake MLA, said it is terrifying for more than 60 families to be evicted at once when there are few affordable rentals in Victoria.
"There are loopholes in the Residential Tenancy Act that allow for 'renovictions,' " said Fleming, pledging those holes would be plugged by an NDP government.
"It's a loophole that allows an end run around rent increase limits of four per cent a year and it's happening in one of the tightest and most difficult housing markets in the country," he said.
The rental vacancy rate in Victoria is officially 2.1 per cent. An average twobedroom unit rents for $1,045, while a three-bedroom unit is $1,244, according to Canada Mortgage and Housing Corp. figures.
The evictions were also on the agenda for Thursday's city council meeting.
The renovations should be phased to allow tenants to remain in place, Fleming said.
"I'm sure the tenants would be happy to put up with the construction schedule rather than be thrown out on the street."
Fullbrook's final plans include an interior road to allow parking beside units. He said he will then apply to city council for 32 units of new housing in the existing parking lot.
"We're not looking to gentrify the area, we are looking to renew it," he said.
jlavoie@timescolonist.com
We thought you might also be interested in..