TC 10K: As many reasons to race as there are participants
Apr 28 2012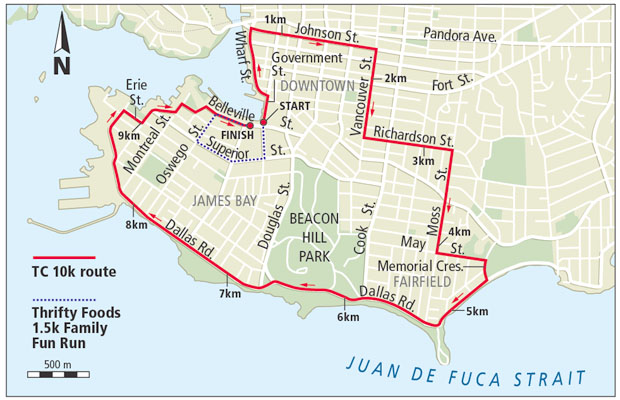 .
Photograph by:
. , .
When Bruce Deacon of Victoria competed in the marathon races of the 1996 Atlanta and 2000 Sydney Olympics, running was serious business.
"On Sunday, it will be more of a fun focus," said Deacon of the 23rd annual Times Colonist 10K.
There will be as many reasons to run or stroll the course as there are participants. There were just over 12,300 people registered on Friday. Sign up continues today during the Race Expo from 10 a.m. to 6 p.m. at the Delta Ocean Pointe hotel.
The number of registrants in 2011 was 13,086.
Those elites at the front of the pack will have a whole different view of the race than the heaving masses in the back.
Now 45, Deacon can't hope to match his personal best clocking of 28 minutes, 46 seconds. But his goal Sunday of 32 minutes would still leave most of the other participants breathless.
Canada's second-largest 10K race has developed a reputation among elites and duffers alike. The colour and human-interest stories tend to be in the back of the panting pack. At the front, the goal is to win.
Among the favourites to break the tape on Sunday are 2009 champion and 2010 runner-up Willy Kimosop; 2010 champion Kip Kangogo; and 2010 GoodLife Fitness Victoria Marathon champion Philip Samoei. All hail originally from Kenya, the country that is to running what Canada is to hockey.
"A total of 283 Kenyan runners have achieved the 'A' qualifying standard to date for the 2012 London Summer Olympics, compared to only three Canadians," noted Paul O'Callaghan, elite athlete coordinator for the TC 10K.
"That's a remarkable statistic and illustrates how important running is in Kenya."
But there's something for everybody Sunday, regardless of whether your goal is 28 minutes or one hour and 28 minutes.
"That's why this event is an amazing gift to our community," said six-time TC 10K women's champion Lucy Smith.
This will be the second year for the new one-loop course, which starts at Government and Belleville streets at 8 a.m. and snakes downtown to Fairfield, Dallas Road and James Bay.
The 1.5K Thrifty Foods Family Fun Run starts at 11 a.m.
This year's race has instituted a timing system that will allow participants' progress and times to be posted automatically to their Facebook pages and Twitter accounts.
The format is a first for B.C. and has previously only been used in marathons in New York City, Chicago and Singapore.
When the runners go over mats placed across the road at the 5K and 8K marks, as well as the finish line, their time and place will automatically be transmitted to their social media accounts.
Those interested can sign up for this feature through the event website at www.tc10k.ca or by going to the Race Expo today from 10 a.m. to 6 p.m. at the Delta Ocean Pointe.
On the web: www.tc10k.ca
cdheensaw@timescolonist.com
We thought you might also be interested in..