Teen's recipe for a dazzling dry grad
Apr 28 2012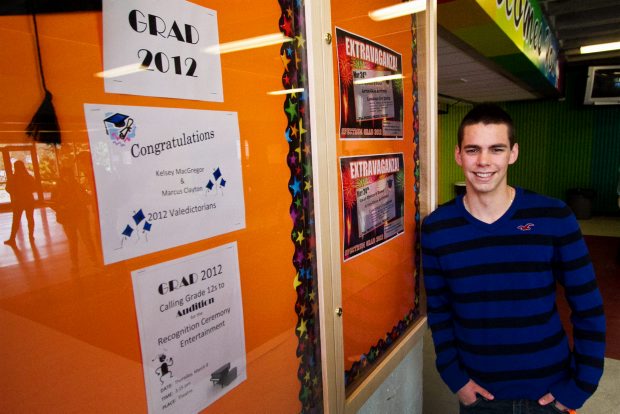 Spectrum Community School student Marcus Clayton, 17, is organizing an after-grad party to remember.
Photograph by:
Darren Stone , timescolonist.com
Track meets are gone, jazz festivals cancelled, but grad celebrations are alive and well at one Victoria high school despite a decision by teachers to stop volunteering.
Indeed, the Spectrum Community School Class of 2012 is ready to stage one of the great after-grad parties of all time thanks to the efforts of a 17-year-old whiz kid.
Marcus Clayton, class valedictorian and extreme party planner, has spent the past year inspiring fellow students and parents alike with his vision of a last alcohol-free bash.
"I can't say enough about him and what he's done," said Fiona Goudy, a parent and co-chairwoman of the dry grad organizing committee.
School administrators say they have rarely a seen student with Clayton's organizing capabilities and leadership skills.
Armed with Excel spreadsheets and binders full of contacts, he tackled Grad 2012 like he was planning the London Olympics.
"Everything he touches is with enthusiasm," principal Judy Harrison said.
"If anybody understands school culture and a need for school spirit . . . it's Marcus Clayton."
The young man himself is quick to share credit, noting that he and classmate Samantha Robbins came up with the dry party idea in Grade 11, and spent last summer researching the concept before pitching it to their parents and administrators.
"Then it was a matter of convincing the students that rather than going out into the bush, or going out to separate parties, we should do this," Clayton said.
"This is just a way to keep everybody together in a safe environment, and show people that, 'Yes, we're from high school, but you don't need to drink to have fun.' "
The proof will be in the party, and this promises to be one for the books. It's set for City Centre Park in Langford with students bused in for the formal dinner and dance following a recognition ceremony at the University of Victoria.
The After-Grad Extravaganza will then run to 5 a.m. and include access to mini golf, bowling, ice skating, two photo booths, karaoke, caricature artists, a hypnotist and a room full of inflatable gladiator games and sumo suits. There will be food, and prizes through the night - including a car donated by Howie's Car Corral.
Ticket sales will cover a third of the $25,000 cost with the rest raised from donations and endless car washes, fashion shows, bottle drives and raffles.
It's a tribute to Clayton and his team that two-thirds of the 300-strong grad class are expected to attend.
lkines@timescolonist.com
We thought you might also be interested in..