'It has not been a good week' in B.C.
Apr 28 2012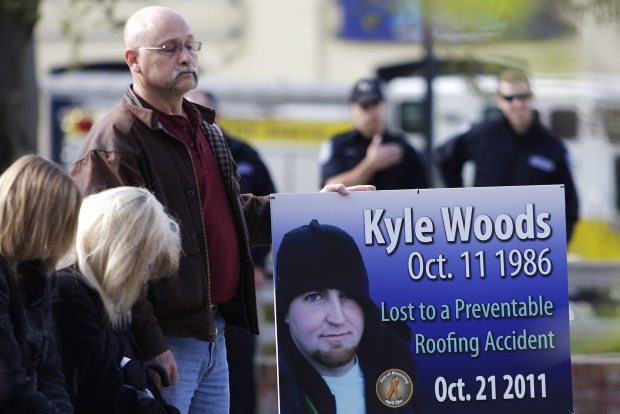 Jane McLeod and Gary LeFrancois mourn their son, Kyle, during the Day of Mourning ceremony at Centennial Square on Friday. About 100 people paid respect to the 142 workers who died on the job in B.C. last year.
Photograph by:
Lyle Stafford , timescolonist.com
During a 45-minute ceremony to recognize the annual Day of Mourning for workers killed or injured on the job, Gary LeFrancois and Jane McLeod held each other for support, dabbed at tears and proudly carried a sign with a picture of Kyle Woods that read: "Lost to a preventable roofing accident."
Amid a crowd of about 100 who turned out to Victoria's Centennial Square to mark the occasion and pay respect to the 142 workers who died on the job in B.C. last year, LeFrancois and McLeod listened while speakers talked about the need to be more vigilant in preventing workplace injuries and shared cautionary tales.
Their bodies may have been there, their minds and hearts were clearly with their son. "I guess it is part of the healing process," said LeFrancois, Woods's stepfather. "It was just last weekend that it was six months after his accident and we buried his ashes.
"We heard about this rally and I guess this is about trying to get some closure or something."
But the speeches and moment of silence were cold comfort for the family.
Woods fell through the roof of a warehouse his company was working on in Vancouver. It was just 10 days after his 25th birthday.
LeFrancois, who also works in the construction business, said no one knows what really happened that day.
"At my job, there are all kinds of courses, all kinds of training and screening," he said. "The problem is, it's not like that for everybody."
This year's ceremonies - designed to commemorate workers killed or injured on the job and highlight the need for on-the-job safety - come less than a week after an explosion at a Prince George sawmill killed two workers and injured 24 others.
It was the second sawmill explosion this year. In January, two people were killed and 19 others were injured in Burns Lake.
"Some days we are encouraged that B.C. workplaces are safer, and they are," said Diana Miles, vicepresident of operations at WorkSafe B.C. "They are safer than they were 10 years ago, but this week we are not encouraged - It has not been a good week for workers in B.C."
Miles said the disasters help drive home the importance of workplace safety.
"It reminds us it's important we don't take anything for granted, and it underscores the importance of education in every job," she said. "It means for workers to understand the environment in which they work, assess the risk and know what you're walking into.
And know what your rights are."
Victoria's acting mayor Pam Madoff said all workers, not just those in industrial settings, should focus on safety.
"For those of us in urban settings, we sometimes think we are removed from the opportunity for these types of injury," she said.
During Friday's ceremony, Mel Camilli - who lost his legs when he was 21 after he was trapped between heavy machinery and a log - urged everyone to take an interest in youth on the job, as they are often unprepared for the dangers of any job site.
"Take an interest - it may save a life," Camilli said, noting an average of 46 young workers are injured on the job every day in this province.
Last year, there were 142 workplace fatalities and 103,798 injury claims accepted by WorkSafe B.C. In an average week, 2.7 workers die, more than 2,700 workers are injured and 17 people are permanently disabled.
The first Day of Mourning was recognized by the Canadian Labour Congress in 1984, and in 1990 it became a national observance.
The Victoria Labour Council will be holding an event at 9 a.m. today at Centennial Square.
aduffy@timescolonist.com
We thought you might also be interested in..