Royal Jubilee Hospital buildings coming down brick by brick
Apr 28 2012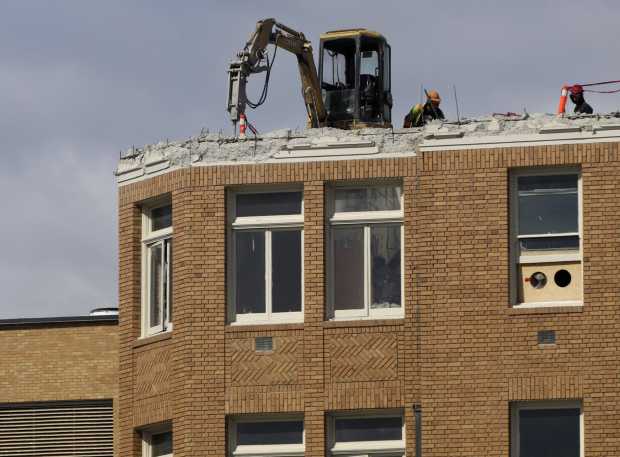 Three empty buildings — one of which was built in 1890 — are being demolished at Royal Jubilee Hospital.
Photograph by:
Lyle Stafford, Victoria Times Colonist , timescolonist.com April 27, 2012
A near brick-by-brick deconstruction of three aged and empty buildings at Royal Jubilee Hospital is a slow and methodical process but it's on schedule, says the Vancouver Island Health Authority.
The process began in October and is scheduled for completion this December. A 130-vehicle parking lot for the $349-million patient care centre, opened in March 2011, will stand in place of buildings.
However, there's no wrecking ball smashing down the walls.
"We're not doing anything jazzy like that, we're not imploding anything," said VIHA spokeswoman Shannon Marshall.
Instead, in an effort to control hazardous materials — asbestos and possible pathogens in the walls and ceilings — the deconstruction is more of a dismantling.
Opened in 1890, South Block is the oldest of the three buildings being taken down. East Block opened in 1925, while Centre Block is believed to have opened in 1919, according to VIHA.
The health authority is salvaging, recycling and preserving as much of the buildings as it can for future use or posterity.
"The project contract calls for the salvage of a number of historic items, including some of the balcony concrete decorative friezes and columns, copper downpipe, samples of wooden handrails, brass plaques, antique light fixtures, wood doors, and any other items of value," Marshall said. "A number of these items have already been returned to VIHA and are being retained in storage for future preservation or reuse."
Preparation for the work began in August, when the hospital's Royal Block and Richmond Pavilion were renovated to absorb patients from the 40 rooms of the South, East and Centre blocks.
ceharnett@timescolonist.com
We thought you might also be interested in..