Dog owner sounds alarm on raccoon roundworm
Apr 28 2012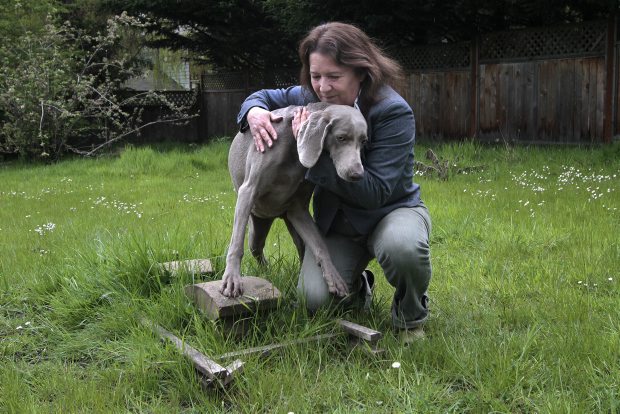 Alison Gunn with Soleil at the grave of her two dogs that died of a raccoon roundworm infestation.
Photograph by:
Lyle Stafford , timescolonist.com
A North Saanich dog owner is warning others to worm their pets monthly in order to protect against the spread of Baylisascaris procyonis, commonly known as raccoon roundworm.
Alison Gunn lost two Weimaraners, Poppy and Forest, in November after they became infected with the parasite.
"I really want people to know [deworming] is important," Gunn said Friday.
"I don't want anyone else to go through the kind of pain that I have."
Poppy and Forest died within two weeks of each other after developing uterine infections as a result of the roundworm infestation. One of Gunn's four remaining dogs has an unbalanced gait, possibly from nerve damage, and another has a lump on its head.
Blood tests sent to the National Reference Centre for Parasitology at McGill University in Montreal have shown that all of Gunn's dogs have been exposed to the roundworm, so Gunn is following a regimented schedule of monthly deworming.
The larvae can cause symptoms in dogs that include lethargy, stiff joints or paralysis, seizures, blindness and death.
The parasite moves from raccoons to dogs through the raccoons' waste, said veterinarian Sue McTaggart.
"It doesn't take very many eggs to infect the dog," McTaggart said.
While the worms reside peacefully inside the guts of raccoons, they wreak havoc in dogs.
"The little larvae migrate into the spinal cord, into the eye and up into the brain," McTaggart said.
The raccoon roundworm also can infect people and horses, although it's rare to find it in humans. There have been 15 confirmed cases of raccoon roundworm in humans resulting in four fatalities, she said.
Children should be supervised when playing in areas frequented by raccoons and should be careful not to ingest any dirt or particulates, McTaggart said.
She also recommends wearing gloves in the garden and wherever there are raccoons, and says people should not feed raccoons. "They multiply as fast as cats do."
Treatment involves monthly deworming. The medication is available through veterinarians' offices.
"We recommend people use the best and strongest [worming medication]," McTaggart said. It could take a year of monthly worming treatments to kill off the larvae, she said.
"We're telling everybody to worm their dogs once a month - you've got to do it."
smcculloch@timescolonist.com
We thought you might also be interested in..