Teen killed in crash a best friend to many
Apr 29 2012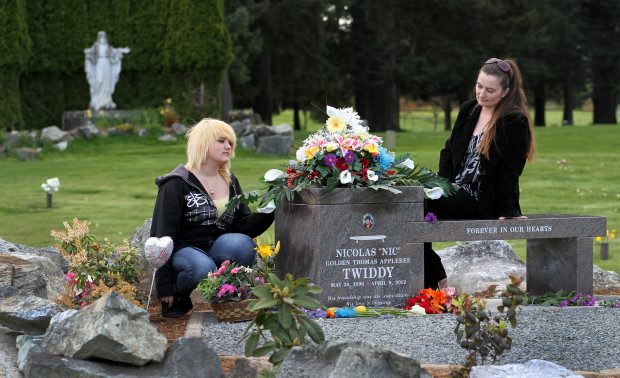 Lisa Twiddy, right, and her 14-year-old daughter, Brittney Rigo, at Hatley Memorial Gardens, where Nic Twiddy is buried. Nic was killed in a car crash on Sooke Road on April 9.
Photograph by:
Bruce Stotesbury , timescolonist.com
Buried with Nic Twiddy are mementos from those who loved him.
A ruby cross, a pair of sunglasses, locks of girls' hair, handwritten letters, friendship bracelets, bandanas, a friend's sweatshirt he had always admired: items that will always be with the 15-year-old, who died April 9 in a car crash on Sooke Road.
"The kids have been affected by this so much. He really did care about his friends," said the Sooke teen's mother, Lisa Twiddy, in an exclusive interview with the Times Colonist.
"When they tell me how they feel, they feel exactly the same way I do: Like a bottomless hole and so sad. Like it's not true. How could it even have happened?"
Twiddy considered her son her best friend and after his death, she realized he had held that status for many people.
"They loved him, too, they must have loved him to feel the same way I do. It's indescribable," she said, while sitting next to her 14-year-old daughter, Brittney Rigo.
Twiddy still has a voicemail saved on her phone, where her son, always quick with affection, says, "I love you, Mommy."
Twiddy and many of her son's friends said they are torn between grief at losing Nic and anger toward the 18-year-old Sooke man believed to have been driving the blue Chevrolet Cavalier - allegedly stolen - when it crashed.
Police are recommending charges of possession of stolen property and are considering more serious charges of dangerous driving causing death or criminal negligence causing death.
Also in the car were 15-year-old Maria Forbes, who was hospitalized in intensive care for serious injuries to her face and back, and Steve Livingstone, 18, who suffered leg injuries.
While the driver has publicly apologized on Facebook and in the media, Twiddy hopes he will prove that he is sincere by taking responsibility for his actions and perhaps voluntarily giving up his licence.
Twiddy had talked to her son on the phone just half an hour before the crash at 10: 15 a.m. As she was heading into work, she talked to Livingstone's dad, who said there had been a car accident but there was little information as to how serious it was.
Twiddy was managing the Showcase store at the Hillside Mall, reading news articles online about a fatal crash and frantically trying to find out from Sooke RCMP if her son was the teen who was dead.
At 3 p.m., Victoria police officers confirmed her worst fears.
The next few days were a blur, as she made arrangements to bury her child.
When deciding on a burial for Nic, the single mom struggled with how she was going to afford the type of service her son deserved. Twiddy, who had recently bought a house in Sooke after years of renting, decided to sell her car, jewelry and whatever else could raise $18,000 for the funeral and plot.
Employees at Hatley Memorial Gardens and Sands of Victoria funeral home offered deep discounts and waived every fee they could to ease the financial burden, Twiddy said.
"These people are angels. At a terrible time, they bought me peace," she said.
At the memorial gardens in Colwood, instead of just a tombstone, Nic has a memorial bench surrounded by a large gravel area.
"There's a heartfelt sympathy for a single mom that is losing a 15-year-old son, especially with such tragic circumstances," said Peter Goudreau, Hatley's family services director. "We just felt it was a good opportunity to have us step up and help."
Twiddy hopes friends will go there to talk to Nic, instead of visiting the makeshift memorial at the crash site on Sooke Road, a dangerous spot that has no sidewalks and is prone to speeders.
"It's so dangerous, I don't want someone else to get hurt," she said.
Nic's friends and classmates are planning to gather at his gravesite on May 30 to celebrate his 16th birthday.
They might talk about the way he would bring soup over for a friend who was sick, or pick flowers for someone who was sad. They might laugh about the goofy faces he'd put on for photos, or the sensitive side that would shine when he wrote poetry.
The important thing for Twiddy is that they keep her son's memory alive.
Twiddy has set up a memorial fund to help pay for the funeral. Anyone who wants to donate can go to a local TD Bank, quoting transit number 99000, institution number 004 and account number 09406554368.
kderosa@timescolonist.com
We thought you might also be interested in..