Bring us your books, Victoria
Apr 29 2012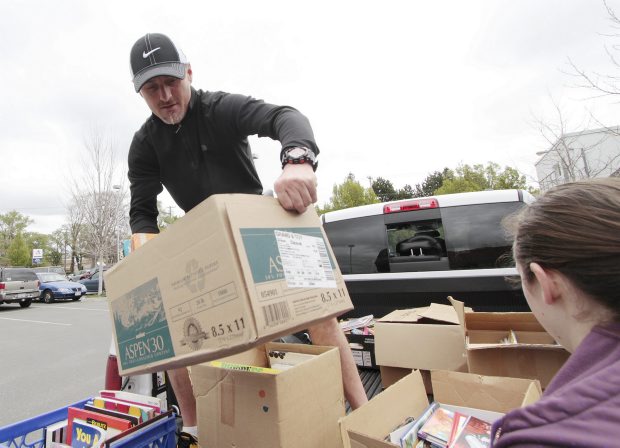 Todd Fitzsimmons unloads books donated by Christ Church Cathedral School for the Times Colonist book sale on Saturday. The drive continues today at the curling club.
Photograph by:
Lyle Stafford , timescolonist.com
Greater Victoria residents gave away about 55 tonnes of books during the first day of donations for the Times Colonist book sale, a major contributor to literacy programs in the region.
More than 125 volunteers moved boxes of books into the Victoria Curling Centre on Saturday as a steady parade of vehicles rolled through the parking lot.
"It was an excellent turnout," said Bob Taylor, the onsite co-ordinator for the book drive.
The Oak Bay Rotary Club donated nearly 7,000 books, which showed up in the back of the three-tonne bin truck. Members from all of the Rotary Clubs in Greater Victoria searched their communities for the donations, topping last year's total of about 5,000 books.
The delivery was compliments of Peter Chenard, owner of Haul-a-Day Junk Removal. Oak Bay Rotary Club member Jim Force asked Chenard to help come up with a more efficient way to deliver the books.
"We figured, environmentally, it's best to have one big truck rather than having a whole pile of vehicles take them down," Force said.
Each book will be categorized in preparation for the 15th annual book sale on May 12 and 13. The event has raised $1.5 million for literacy programs since its inception and raises money for the national RaiseaReader campaign.
Money raised stays within the community and is matched by funding from the provincial government.
Hauling literature is no easy task. Gail Saiger treated herself to a massage after lugging an estimated 225 kilograms of books, about half her collection, from her home in Oak Bay.
The palliative care physician with Victoria Hospice intended to donate only a few bags' worth of books, but once she started to rummage through her house something "snapped" in her brain, she said.
Donations are being accepted again today between 9 a.m. and 3: 30 p.m. at the curling club, 1952 Quadra St.
Donors are asked to stay in their cars for faster unloading by volunteers and to pack books in boxes or other containers they do not need returned.
Anyone interested in volunteering at the book sale is asked to email sdonnelly@timescolonist.com.
dspalding@timescolonist.com
We thought you might also be interested in..
Notice
: Undefined index: event in
/home/viccity/public_html/v2/content.php
on line
67