UVic parkade downsized from original design
Apr 29 2012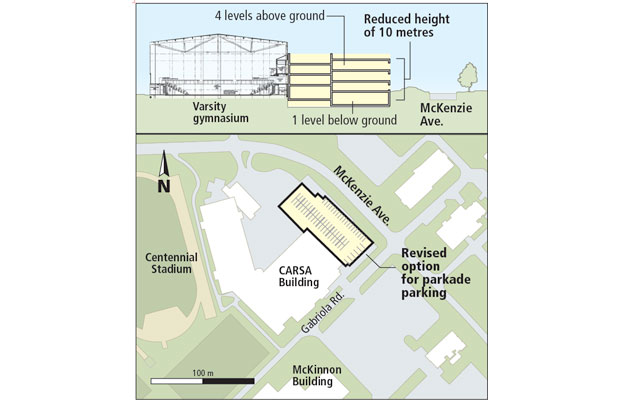 The UVic Parkade will be four storeys, with one storey underground.
Photograph by:
timescolonist.com , timescolonist.com (April 2012)
A new design for a parkade at the University of Victoria is almost half the height of the controversial original design.
UVic unveiled its new plan Saturday at the first of four open houses to be held over the next several days to display the smaller and lower design.
The new plan is three levels lower than the original seven-level parkade plan, with one of the four levels underground. It would be 10 metres tall, compared to 19.5 metres in the original plan. There are three exterior options being considered.
The parkade is part of the $75-million Centre for Athletics, Recreation and Special Abilities. The project will include athletic facilities, a 2,000-seat gym, a multipurpose field house and a climbing tower, as well as office and lab space for CanAssist, which develops technologies, programs and services for people with disabilities.
The public and Saanich council were supportive of the project, with the exception of a proposed seven-level parkade at the McKenzie Avenue university entrance.
After the application was twice turned down by Saanich council because of lack of public consultation, UVic met with the community and came up with five parkade options. After several open houses, an interim report issued by the university said the majority of people preferred burying two levels of the parkade so only five were above ground, or else reducing it by two levels.
The new plan is a combination of both. Visual impact is minimized with the lower height and an enhanced tree buffer along McKenzie Avenue, says UVic. Having only one level underground lessens the technical challenges that would accompany deeper sub-surface work.
The plan calls for a total of 332 parking spaces, down 177 from the original design, but still provides direct access from the parkade to CARSA. There will also be parking for 64 bicycles.
The reduction in height means the plan conforms to Saanich's 10-metre height maximum. The project could proceed without going to council for a height variance, which was required under the previous higher plan. However, it would require other variances. UVic anticipates its application to Saanich will be submitted in June.
Open houses are being held Monday from 5 to 8 p.m. at Mount Douglas Secondary; Tuesday from 11 a.m. to 2 p.m. at the UVic student union building; and Wednesday from 4 p.m. to 7 p.m. at Cadboro Bay United Church, 2625 Arbutus Rd.
For more information, see www.uvic.ca/carsa.
kwestad@timescolonist.com
We thought you might also be interested in..