Kangogo, Wodak-Fraser are men's, women's champs in high-spirited Times Colonist 10K
Apr 30 2012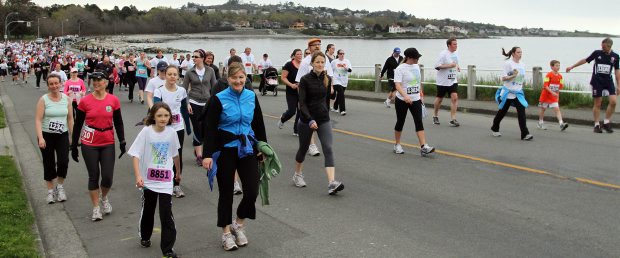 Participants run and walk along Dallas Road during the Times Colonist 10K.
Photograph by:
Adrian Lam , timescolonist.com (April 2012)
The numbers were down slightly for this year's Times Colonist 10K on Sunday but certainly not the spirit.
For Joe Young of London, England, it was a sampler of sorts.
"Feeling the energy on the streets here today, you can sort of imagine what it will feel like this summer there [when he is back home during the 2012 Games]," said Young, an 18-year-old Pearson College student, who crossed the finish line draped in a Union Jack.
The Olympian reference was appropriate since Kip Kangogo, from the most successful and formidable running nation on earth, won the 23rd Times Colonist 10K. The native of Kenya, a landed immigrant living in Lethbridge, Alta., who was also the 2010 champion, was across in 29 minutes and 51 seconds.
Natasha Wodak-Fraser of Port Moody followed up her women's victory two weeks ago in the massive Vancouver Sun Run with the TC 10K title in 34:32.
Although the 12,490 registrants was down from last year's 13,086, the Times Colonist race is still by far the second-largest 10K in Canada behind only the Sun Run, which is on another stratosphere altogether with nearly 50,000 participants this year.
"People are embracing fitness on the Island and there are more options than ever now for them to do that, from added road races, adventure races and cycling events like the Ryder Hesjedal Tour de Victoria," said Jacqui Sanderson, TC 10K race director.
"The numbers were down this year for our event but not significantly. There are so many choices and only so many weekends."
But few events come with the vibrancy and colour of the TC 10K.
"We had 10 bands along the race course and people holding up signs and cheering on the runners. Pretty much on every corner we had something going on," said Sanderson.
"The community has come to embrace this event and there were tons of smiles on the faces of the participants as they crossed the finish line."
The enthusiasm was contagious and the elite runners weren't immune from catching it.
"The fans were cheering me along the route all the way and it was nice to get that kind of support," said race winner Kangogo.
"The conditions could not have been better. It was a nice course. I like it a lot."
It was certainly good to Kangogo, who pocketed the $1,500 winner's prize. But his win was of his own making as he bested runner-up and defending champion Willy Kimosop of Kenya (30:05), third-place and U.S. national team runner Joseph Gray of Newcastle, Wash., (30:24), fourth-place David Jackson of Abbotsford (30:34) and fifth-place Colin Fewer of Newfoundland (30:36).
"Usually, I shake the tree at 6K to see how many fruits fall," said Kangogo, referring to the number of runners he can drop when he starts to make his charge.
"It was tough today. But by 8K, I had shaken the tree pretty good."
Women's champion Wodak-Fraser also won $1,500.
"The race was great, the weather perfect for running and the crowd was fantastic," said Wodak-Fraser, who will contest the 5,000 and 10,000 metres at the Canadian Olympic track and field trials for London 2012 in June at Calgary.
"This is awesome. I love Victoria," added the Fraser Valley runner.
Wodak-Fraser's performance shunted six-time champion Lucy Smith of Victoria to second place (35:14), 1992 Barcelona Olympian and 2008 race champion Lisa Harvey of Calgary to third (35:23), Sun Run fourth-place finisher Marilyn Arsenault of Victoria to fourth (35:33) and Dutch triathlon 2008 Beijing Olympian Lisa Mensink to fifth (35:52).
"[Wodak-Fraser] won the Sun Run and now the TC 10K . . . she is on fire right now," said Arsenault.
Adding to their top-five finish overall, Smith, Harvey and Arsenault were 1-2-3 in the women's 40-plus masters class.
"When I get on the starting line, I feel 25 again," said Smith, in explaining the dominance of the older runners.
"It all comes back. It's like second nature."
Kevin O'Connor of Vancouver was the 40-plus men's masters champion and 10th overall in 31:48. Craig Odermatt was second in men's masters (32:31) and fellow-Victorian Bruce Deacon third (32:41).
"The new course [inaugurated last year] is more of a challenge," said Deacon, who ran the marathon in the 1996 Atlanta and 2000 Sydney Summer Olympics.
"I like the old course better."
Deacon has reason — he was the TC 10K winner in 1993, 1998 and 1999.
Meanwhile, the 82-year-old masters legend Maurice Tarrant, who holds numerous Canadian age-class records, ran his first non-competitive race and did so in the company of daughter Claire Tarrant-Rowle.
"It's time to stop and smell the roses," smiled Tarrant, as he crossed the finish line for the first time in many decades without bothering to check his watch.
For John Botelho, crossing the line Sunday in 46:10 was a heroic personal triumph of another kind after going into a coma and suffering brain damage — memory loss and also the loss of smell or taste — when crashing during the Whistler GranFondo bike ride in 2010.
"The metabolic side effects of my medication is that everything goes to fat," said Botelho, a longtime avid racer and triathlon race coordinator, of his new-found incentive to stay active.
Every person who participated Sunday, elite or duffer, had a story to tell.
"It feels better at this point [crossing the finish line] than at any other point in the race," said school principal Tarj Mann, with a satisfied smile.
cdheensaw@timescolonist.com
We thought you might also be interested in..