Mungo Martin's grandson to carve replica of totem pole for Government House
May 01 2012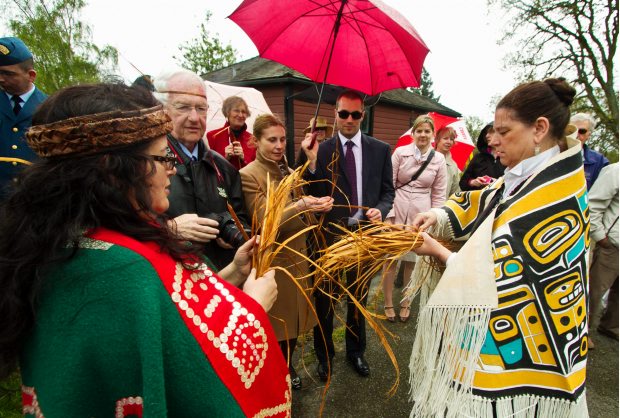 Debbie Hunt, left, and Gwen Gold hand out cedar shavings at a traditional blessing to mark the beginning of a new 30-foot totem pole being carved on the Government House grounds
Photograph by:
Darren Stone , timescolonist.com (April 30, 2012)
Master carver Tony Hunt has, over the years, created "tons" of replica totem poles, but the replica he's about to start on the grounds of Government House is special.
"This one is different because my grandfather did the first one," said Hunt, 69, following a brief ceremony Monday.
Nearby, supported by huge timbers inside a tent, was a length of yellow cedar with its bark peeled.
Behind the tent was the original totem pole, carved by Mungo Martin of the Kwakwaka'wakw Nation in 1958.
His assistant was Hunt, then 16.
Hunt said it feels incredible to be making a new totem to replace one from more than 50 years ago, "and I'll be using the tools he made for me. That's a major feeling."
He'll carve the totem by hand without the assistance of such modern tools as chainsaws.
"People ask me what do I do if I make a mistake. I always tell them, 'I was never taught how to make mistakes,' " Hunt joked.
Hunt has carved out a long career creating totem poles. He recently returned from Greece, where one of his totems stands guard at the Canadian embassy.
"I've been all over the world, making poles for Canadian embassies and world fairs," he said.
"I'm blessed to be able to make these poles that represent Canada."
The original pole carved by Martin and Hunt was commissioned by the Royal Canadian Navy to be given to the Royal Navy. The totem stood for many years at the naval yard in Portsmouth, England, and remained there after the yard was closed. In the 1980s, the original pole was blown over. It was retrieved by the Canadian navy and stored on the grounds of the old Chief and Petty Officers' Mess on Esquimalt Road. It was too rotten to be raised.
Lt.-Gov. Steven Point heard about the totem's story and asked Hunt to carve a replacement, which will be known as a "unity pole." It will stand on the grounds at Government House "and bring all British Columbians together," said Jamie Hammond, Point's private secretary.
The cost of the replacement totem project is estimated at $80,000, which will be raised by the Government House Foundation.
smcculloch@timescolonist.com
We thought you might also be interested in..