Island dealer to help return Harley that rode a tsunami
May 02 2012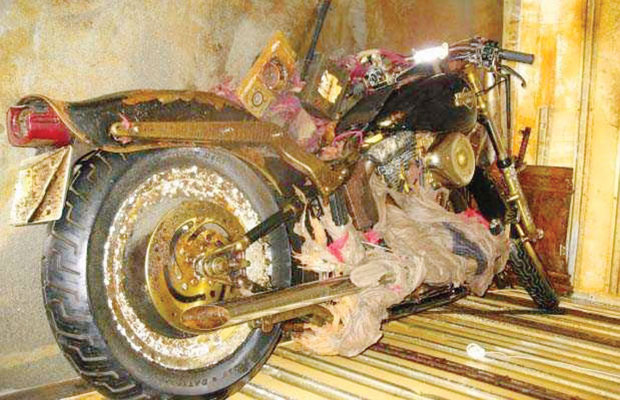 Ikuo Yokoyama, 29, owns a Harley-Davidson motorcycle that was swept from Japan by last year's tsunami and washed ashore on Graham Island, in Haida Gwaii. A Landford dealer will help return the bike to Yokoyama.
Photograph by:
Peter Mark, NHK World News , timescolonist.com (May 2012)
A Langford motorcycle dealer is helping to return a Harley-Davidson motorcycle to its owner in Japan after it was washed out to sea by last year's tsunami and ended up on B.C.'s northwest coast.
Masset resident Peter Mark found the motorcycle April 18 in a Styrofoam-lined storage container that washed ashore on Graham Island in Haida Gwaii, after floating 7,000 kilometres across the Pacific Ocean.
Japanese writing on the licence plate gave clues to its origin. Ikuo Yokoyama, 29, who lives in the town of Yamamoto, in Miyagi Prefecture, was tracked down by a Japanese Harley-Davidson representative who saw a CBC Television report of the bike's discovery.
"I'm very thankful that it came back," Yokoyama told public broadcaster NHK. "I would like to thank the man who found my bike in person, but because it's hard to do that, I'd like to thank him here right now."
Mark learned of the bike's owner in a call from a Japanese TV station Tuesday.
"I'm pretty happy. I've been worried the whole time that something bad had happened to him. It's a major relief knowing he is OK," Mark said, adding he would like to meet Yokoyama one day. "I understand he lost a lot in the tsunami. My heart really goes out to the guy."
Once Mark learned the owner is alive, he decided the next step would be to return the rusted bike.
On Monday, Mark's friend, Tofino resident Ralph Tieleman, contacted Steve Drane, who owns a Harley-Davidson dealership in Langford, to hatch a plan to restore the bike and send it back to Japan.
Drane said that within a day he had $10,000 worth of pledges to carry out the restoration.
With the subsequent news that the owner had been found, the bike is to be taken to Drane's shop and packed for shipping to Japan in its rusted state. Harley-Davidson has offered to restore the bike at one of its Japanese facilities so the owner can see the motorcycle before and after.
"I think it's going to be great that it actually goes back in its original condition. I think it's going to have a lot more meaning there," Drane said.
Yokoyama lost three family members, his home and all his possessions when the tsunami battered Japan's northeast coast on March 11. Miyagi Prefecture was among the worst hit, with more than 11,000 people dead or missing.
"He's lost his family members but he's got something he probably felt very near and dear to actually coming back and he'll be able to ride it once again," Drane said.
Tieleman said he's hoping to meet Mark in Prince Rupert to get the motorcycle and bring it to Victoria.
Drane would like to give the public a chance to see the water-ravaged bike when it arrives at his store off West Shore Parkway. Before it's repatriated, he wants to include some Victoria mementoes and a handwritten note in Japanese for Yokoyama.
Experts say tonnes of debris swept away by the tsunami is floating toward the West Coast.
kderosa@timescolonist.com
We thought you might also be interested in..