It's not easy being Green, but May is making it work
May 02 2012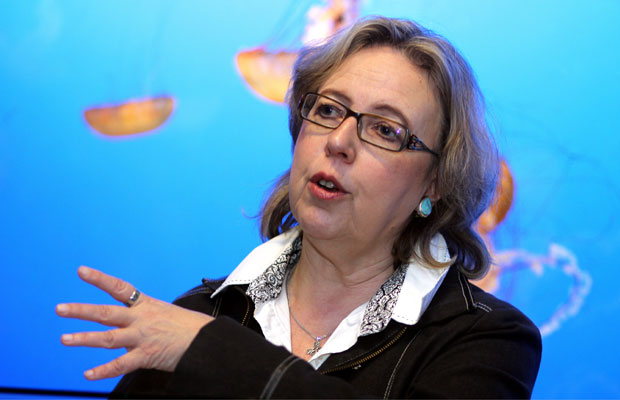 Elizabeth May, MP for Saanich-Gulf Islands, in Sidney in March. The Green party leader says she spent about 180 to 190 days in the riding in the past year.
Photograph by:
Bruce Stotesbury , timescolonist.com
One year after Saanich-Gulf Islands MP Elizabeth May inspired voters to make history by electing the first Green party member in Canada, the party leader is indeed in the House. But the question remains: Is she being heard?
"I feel like I'm making history every single day," May said. "There's a lot of ways in which I feel like my contribution is definitely making a difference.
"I am validated every single day in this place because I raise points no one else raises," she said. "I was born to do this."
On May 2, 2011, the Green party leader, aided by an army of 2,000 media-friendly volunteers, ousted long-standing Conservative cabinet minister Gary Lunn.
Despite that victory and being the Green party leader, May, 57, is regarded as equivalent to an independent member in the House of Commons. That means no official party status, no research budget and no automatic membership on committees.
The Green party leader is last in the speech rotation when legislation is debated and she is entitled to just one question during question period per week - after everyone else has spoken. By that time, the major television stations have stopped filming.
"She's at the bottom of the totem pole," said Norman Ruff, UVic political science professor emeritus.
As well, the lone Green is facing a Conservative majority government - not what she had hoped for.
"My reaction to the May 2 election was to be profoundly depressed and concerned," May said. "I mean, I was happy I was elected, of course. But I thought, what will happen to the country?"
But what hasn't killed her spirit has made her stronger, say observers.
Emmett Macfarlane, a UVic political science professor, said May has had great success in leveraging her position and bringing national attention to her province's concerns - for example, her opposition to the Northern Gateway pipeline - all while employing a calm and respectful demeanor in the House.
"It's one thing to break that wall and finally get a member of her party elected," Macfarlane said. "It's another thing to perform well enough in Parliament, over the course of the first year, to add credibility to the idea of electing more Green party members in the next election. So far, I think she's performing at that level."
May was elected on a platform focused on bringing decorum to the House and defending the environment.
When heckled, May stops talking and sits until the Speaker resumes order. With the Speaker's permission, she plans to ask MPs to sign a pledge in favour of zero-tolerance for heckling.
Currently, May is condemning Bill C-38, introduced in the House last week as "an act to implement certain provisions of the budget tabled in Parliament on March 29, 2012, and other measures."
The Conservatives' attempt to rewrite environmental law under the guise of budget implementation is essentially contempt of Parliament, May said.
"We are about to see the blowing apart of the entire framework of Canadian environmental law with the one exception of laws dealing with of toxic chemicals," she said.
May said she works about 12 hours each day, seven days a week. In her first year in the House: She raised 239 questions and comments; filed 85 petitions; made 18 speeches and nine statements; and raised 26 points of order or privilege.
This doesn't include submitting amendments to bills at the reports stage. On Bill C-10 alone, the government's omnibus crime bill, she submitted 41.
Outside the House, she has held press conferences: eight in Ottawa; five in her riding; one in Durban, South Africa, and one in Toronto.
"What's denied her on the floor of the House, she makes up for in media relations," Ruff said.
May also blogs, writes articles and tweets and is considered to have one of the best MP websites. (One tweet last summer about the possible health risks associated with electromagnetic frequencies - "so glad I don't have Wi-Fi at home" - saw her portrayed, by some, as a leftwing radical.)
With the exception of "the Wi-Fi debacle, I don't think she could have possibly done a much better job than she has," Macfarlane said.
She has also displayed a unique ability to stand alone on principle - in June, she was the only MP to vote against the extension of Canada's mission in Libya. She argued Parliament shouldn't give "a blank cheque to a mission that doesn't have an exit strategy."
"It took guts for her to do that, I think," Ruff said. "She's facing an enormous uphill battle. Having said that, Elizabeth May is very determined. Very principled. I think she's made an impact."
She's trying to make the same impact at home, working to keep open the Saanichton research centre for plant health, slated in the federal budget to be closed. And she has managed to spend about 180 to 190 days of the last year in her riding.
"My No. 1 responsibility is to constituents of Saanich-Gulf Islands, and the role of Green party leader comes second," May said.
ceharnett@timescolonist.com
We thought you might also be interested in..