Tenor sings the praises of Salvation Army's work
May 03 2012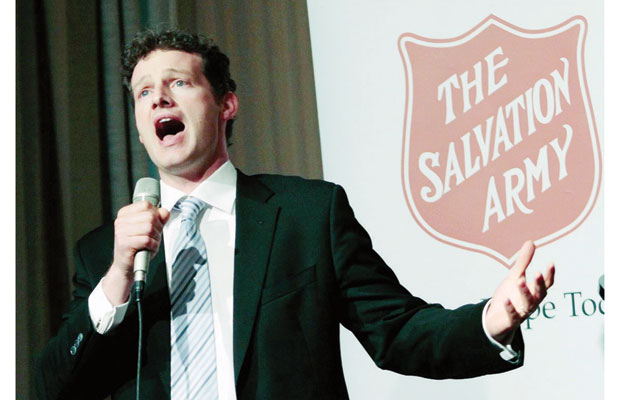 Ken Lavigne sings at the Salvation Army annual luncheon Wednesday.
Photograph by:
Lyle Stafford , timescolonist.com (May 2012)
Ken Lavigne's exquisite tenor voice sent a powerful message at the annual Salvation Army luncheon on Wednesday.
Lavigne sang Keep Holding On, a song encouraging people to stay the course in tough times and the perfect complement to the Salvation Army message of helping those in need.
Salvation Army officials recently approached Lavigne about using his song, which was written for his brother-in-law after a catastrophic injury, as a soundtrack for a video montage of the organization's work, and he quickly agreed. He already had a long association with the organization, having lent his talent to its annual Christmas Toy Drive concert for the past decade.
"It's been something that I've been really proud to associate with," he told the luncheon crowd at the Delta Ocean Pointe Resort.
Lavigne said he has learned more about what the Salvation Army does through tours of the downtown Addictions and Rehabilitation Centre and the Stan Hagen Centre for Families on Quadra Street.
"I was overwhelmed. I walked away from that experience changed in a really positive way," he said. "I saw a group of dedicated volunteers and professionals giving their time to help the thousands, literally thousands, of individuals and families within the Greater Victoria area."
The Salvation Army, which is celebrating its 125th year in Victoria, oversees a number of other organizations and programs, said Maj. Brian Venables. One of them is Beacon of Hope House, a sixbed residential centre for young males dealing with substance abuse.
"In the last year, we've had 33 different boys enter the facility, and I'm happy to announce today that 19 of them have completed the program, have graduated, and today are drug-free," Venables said.
The Stan Hagen Centre has also had a busy year, he said. "Today and every day, literally hundreds of diverse family units will come for assistance," he said.
Salvation Army initiatives help people who are experiencing all manner of difficulties and challenges, Venables said. "For most, they need to be supported," he said. "For most of them, they need a friend."
jwbell@timescolonist.com
We thought you might also be interested in..