Trans-Canada Highway reopens after septic-tank truck crash at Thetis Lake
May 03 2012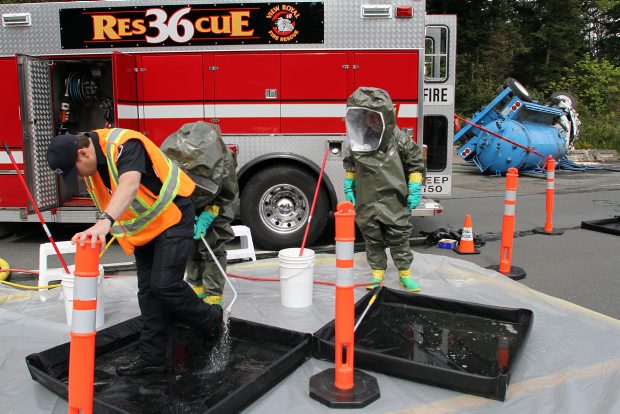 View Royal firefighter Heath Bevan gets rinsed off after leaving the scene of a accident where a septic truck overturned on the Trans-Canada highway just south of Thetis Lake.
Photograph by:
Adrian Lam , timescolonist.com (May 2012)
The northbound lanes of the Trans-Canada Highway at Thetis Lake have reopened, after an overturned septic-tank truck spilled sewage and caused a traffic nightmare for commuters.
Around 12:18 p.m., the tanker truck was heading north in the middle lane when the driver changed lanes to the fast lane but over-corrected when the truck crossed the yellow line, said West Shore RCMP Cpl. Kathy Rochlitz.
The truck rolled over across three lanes but didn't hit any other cars, Rochlitz said. The truck came to rest on its side against the concrete barrier, blocking the far right lane.
RCMP, View Royal firefighters and paramedics rushed to the scene. B.C. Ambulance took the driver to Victoria General Hospital with minor injuries.
Firefighters are trying to manage the spill, and ministry of environment workers are en route.
Northbound traffic was diverted at Helmcken Road or the Old Island Highway, and witnesses said it was like a parking lot.
Traffic was also slowed in the southbound lane because of onlookers.
Around 3 p.m. a crane was brought in to right the truck before it was hauled away. The highway was reopened at 4:15 p.m.
"There's a significant amount of damage to the vehicle, and this driver is very fortunate to only have minor injuries," Rochlitz said.
The truck driver was working for Island-based sewage company Coast Environment.
We thought you might also be interested in..