New walking, bike trail circles airport lands
May 03 2012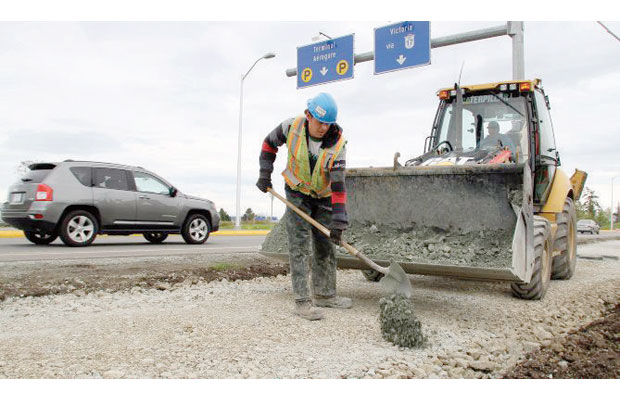 John Williamson of Draycor Construction works on the path around Victoria International Airport Monday.
Photograph by:
Adrian Lam , timescolonist.com (April 30, 2012)
Construction is underway on a 9.3-kilometre paved bike and walking path that will surround Victoria International Airport by the time it's finished next year.
"We think this is a great opportunity for the residents of the community, employees of the airport and surrounding businesses to come out and enjoy the Airport Trail," said Geoff Dickson, president and chief executive of the Victoria Airport Authority.
He's also hoping the three-metre wide path will attract residents from the entire region and dovetail with efforts to promote the Saanich Peninsula's attractions.
Costs are estimated at $2.5 million, Dickson said. The bulk of the work is planned for this year with completion of the path from Ocean Avenue to Mills and West Saanich Roads, where it will be close to Patricia Bay. A bike path on Mills Road was opened in 2009.
The remaining 20 per cent of the path is expected to be finished next year.
Draycor Construction of Victoria is doing the work.
A tender will be issued late this year or early next year for the rest of the job.
Developing the path is the latest of several environmentally friendly initiatives undertaken by the airport authority, including electrical consumption cuts, rain water management, solar heating initiatives, and habitat restoration.
The path will allow cyclists to link up with other routes in the region, Dickson said.
The Victoria airport was one of the first in the country to build a full bike assembly area, including a pump for tires.
Victoria's airport lands are more than a base for landings and take-offs. Dickson sees the area, with its diverse mix of uses, as an economic generator for the region.
The area around the airport is already home to a plastics plant, vintage plane restoration business, new plane manufacturer, distribution centre for Thrifty Foods and a military helicopter squadron.
We thought you might also be interested in..