'Potential huge' after Royal Bay sale
May 03 2012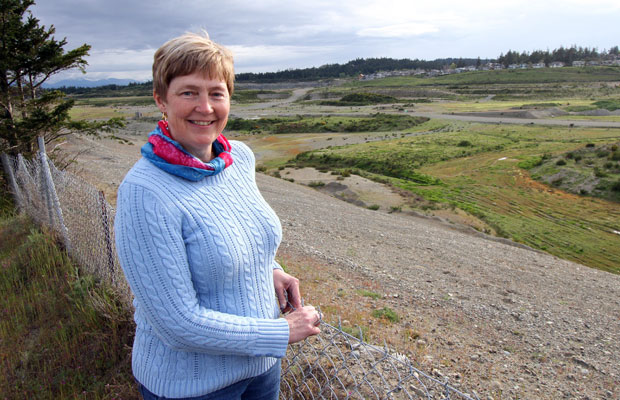 Colwood Mayor Carol Hamilton, in front of Royal Bay Lands, says "we can do just about anything" on the 170-hectare oceanfront property.
Photograph by:
Bruce Stotesbury , timescolonist.com (May 2012)
Growth in the West Shore shows no signs of slowing with plans finally moving ahead to develop the massive Royal Bay property in Colwood.
B.C. Investment Management Corp. bought the 170 hectare property, part of the former Producers Pit gravel operation, from Lehigh Heidelberg Ltd. on Tuesday for an undisclosed price.
The sale represents potentially significant growth for Colwood as the new owner plans development that will likely resemble current mixed-use designs already laid out in the municipality's official community plan.
"With the right development down there, the potential is huge," Colwood Mayor Carol Hamilton said.
Planning for the Royal Bay property development begins almost immediately, said Gwen-Ann Chittenden, spokeswoman for Investment Management Corp.
She would not provide details, but said the group will look carefully at plans already on the books.
Development plans for the site, approved by Colwood council in 1998, outline a mixed design of residential, commercial, parks, community facilities and a village centre to be built in four phases over 20 years.
Dubbed as a "new community," the site could include 2,800 homes. The village centre would include shops, offices and restaurants.
"We acknowledge a lot of time and effort has gone into developing the master pan for the site," Chittenden said.
"We see Royal Bay as a unique opportunity for a large mixed-use development. However, the scale and magnitude of the site requires extensive planning."
The purchase is a structured deal that will see Investment Management Corp. initially take over a 119-hectare parcel with two additional lots to change hands later.
Investment Management Corp. handles international investments worth $91 billion on behalf of 475,000 active and retired publicsector employees, making it one of Canada's largest institutional fund managers.
The corporation is an owner of several major properties on Vancouver Island, including Fairwinds Community and Resort in Nanoose Bay and Westshore Town Centre in Langford.
It jointly owns TimberWest Forest Corp. with the Public Sector Pension Investment Board.
Developing Royal Bay with commercial space will bring new jobs for the region, according to the WestShore Chamber of Commerce.
"Most of the major developments in the West Shore are mixed-use, so it means more and more people will be able to live and work here," said Dan Spinner, the chamber's chief executive officer.
A new high school is scheduled to be built on the Royal Bay site by 2015, making it an attractive loca-tion for home buyers. Both Colwood council and the chamber have pushed for a multimillion-dollar performing arts centre to be built in conjunction with the new school.
"I can see [Royal Bay] having conference centre status, arts and culture components, a market place and condos," said Hamilton. "It's waterfront, for heaven's sake. We can do just about anything."
Solving rush-hour traffic problems to and from the West Shore will be a significant hurdle as projects such as Royal Bay come online, said Ron Bickford, a builder in Greater Victoria.
"It's a huge problem for people who want to move to that area and commute to the city for work," he said.
Previous proposed plans for the site have included a ferry service between Colwood and downtown Victoria.
ROYAL BAY AND B.C. INVESTMENT MANAGEMENT
B.C. Investment Management Corp. handles investments worth $91 billion on behalf of 475,000 active and retired public sector employees, making it one of Canada's largest institutional fund managers. The group owns residential and commercial developments in most major Canadian cities, including Vancouver, Calgary, Winnipeg, Mississauga and Toronto.
On Vancouver Island, its ownership portfolio includes:
- TimberWest Forest Corp. (in partnership with the Public Sector Pension Investment Board) and its 327,000 hectares of land.
- Fairwinds Community & Resort, an oceanfront community with more than 700 homes. Zoning allows for 2,000 more housing units.
- Westshore Town Centre, a retail shopping mall in Langford with 75 stores and a sevenscreen movie theatre complex.
- Fraser Tolmie Apartments, a 208-suite garden-style apartment complex at Cedar Hill Cross and Richmond roads in Saanich.
- Delta Victoria Ocean Pointe Resort & Spa and the Harbour Towers Hotel & Suites.
- Minority investments in Island Timberlands in a limited partnership agreement with Brookfield Asset Management.
dspalding@timescolonist.com
We thought you might also be interested in..