Chemical scare prompts evacuation at downtown Salvation Army
May 03 2012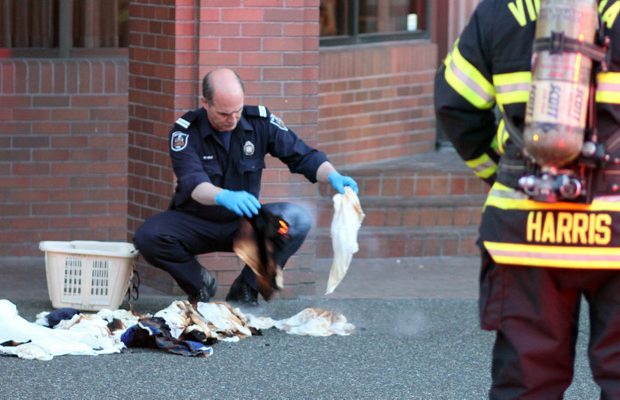 Firefighters dump smoldering rags onto the sidewalk outside the Salvation Army on Johnson Street Wednesday night. Emergency crews were called after staff noticed a noxious smell.
Photograph by:
BRUCE STOTESBURY, timescolonist.com , May 2, 2012
The Salvation Army on Johnson Street was evacuated after oily rags combusted and caused high carbon monoxide levels Wednesday night.
Victoria firefighters responded just before 8 p.m. after staff at 525 Johnson St. complained of a noxious smell, said Acting Lt. Peter Stephenson.
Firefighters found a laundry basket of grease-soaked kitchen rags that had been sitting for almost eight hours and were starting to generate heat and smoke, Stephenson said.
The building was evacuated and the region's hazardous-materials team was called. Firefighters used an electric fan to air out the carbon monoxide and said they would check the levels in the building later in the evening.
Johnson Street was blocked off between Store and Government streets during the incident.
A B.C. Transit bus was brought in to keep residents warm. They were allowed back inside the building shortly after 9 p.m.
We thought you might also be interested in..
Notice
: Undefined index: event in
/home/viccity/public_html/v2/content.php
on line
67