1946 shipwreck haunts Hartley Bay with oil, bombs
May 03 2012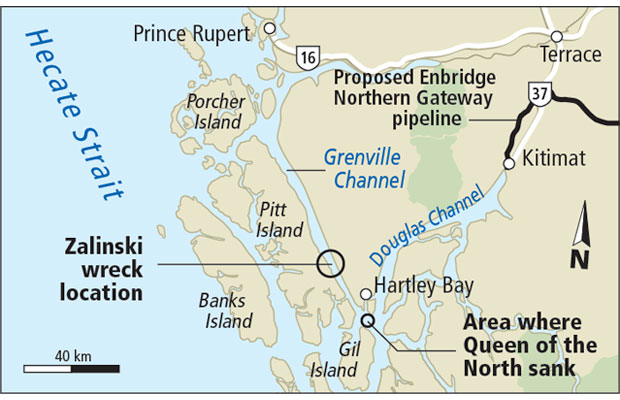 Map shows Zalinski wreck location
Photograph by:
. , timescolonist.com (May 2012)
A slick of heavy oil, believed to be leaking from a bomb-laden U.S. army transport ship that sank in 1946, has appeared on Grenville Channel, 40 kilometres north of Hartley Bay.
Some estimates say the slick is kilometres long, but a Wednesday afternoon overflight by the Transport Canada pollution plane found the spill was minimal, although a sheen was dispersed over a wide area by wind, said coast guard spokesman Dan Bate.
"We are going to get a dive operation in place to patch the leak and prevent further pollution," he said.
The slick has sent shivers of apprehension through the Gitga'at First Nation of Hartley Bay, who say previous pleas to deal with the wreck were ignored. "We could be looking at serious environmental impacts, including threats to our traditional shellfish harvesting areas," said Arnold Clifton, Gitga'at chief councillor.
An immediate cleanup response is needed from the federal government, he said. "Our crew was out there yesterday taking samples and it's gross - it's bunker oil," he said.
The community was told the wreck would be cleaned up by 2010, but nothing happened, Clifton said.
The bombs are a complication, Bate said.
The Brigadier General M.G. Zalinski, which sank in a storm, started leaking oil in 2003. When checked by divers, it was found that, in addition to 700 tonnes of bunker oil, ammunition rounds and a dozen 227-kilogram bombs were on board.
Divers replaced some rusting rivets with cedar pegs to contain leaks until a more permanent solution could be found. Federal officials confirmed in 2006 that Canada was looking for help from the U.S. to deal with the wreck.
B.C. Environment Minister Terry Lake said the province has been monitoring the Zalinski. "And we've done training exercises with our U.S. partners in case this ship [does] start to leak at some point."
Hartley Bay residents are also dealing with leaks from the nearby Queen of the North, the B.C. ferry that sank in 2006, Clifton said. "That's still burping stuff up."
The problems underline community concerns about the proposed Enbridge Northern Gateway pipeline which would see tankers laden with Alberta bitumen travelling almost the same route, he said.
"We are saying they have got to clean up this mess before anyone even thinks of sending anything else through our traditional territory," Clifton said. jlavoie@timescolonist.com
We thought you might also be interested in..