Jack Knox: Raids rekindle policing debate
May 04 2012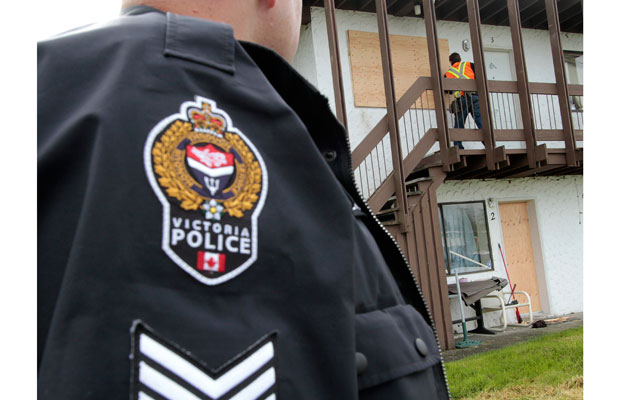 Victoria Police Sgt. Barrie Cockle watches as City of Victoria carpentry department employees board up doors and windows at a Constance Avenue building in Esquimalt after a drug raid this week.
Photograph by:
Lyle Stafford , timescolonist.com (May 2012)
Some of the neighbours cheered when VicPD busted the drug dealers in Esquimalt on Wednesday.
The cops seized heroin, meth, crack cocaine and $15,000 cash from two suites in a Constance Avenue building. A pit bull got hauled off by Animal Control.
Three people were arrested, bringing the total to a dozen taken away in three raids on two blockapart low-rise buildings - 669 Constance and 636 Admirals - since March. Police said thousands of dollars worth of stolen stuff was recovered, including a couch swiped from the lobby of a building right across the street.
More than 30 individuals were involved at one point or another - patrol cops, dog teams, the ERT ninjas, the Strike Force guys who do surveillance and drug buys, the street crimes crew who target, well, street-level crime.
Makes you wonder what Esquimalt council thinks it would add by dumping the Victoria police in favour of its own 35-member RCMP detachment.
VicPD held a news conference Thursday to celebrate the operation, which also included search warrants being executed on three suites in the Admirals Road building on March 6 and April 18. The newser (pointedly held outside the Esquimalt Public Safety Building) tried to push the positive, including the willingness of residents to engage in Block Watch and similar strategies, but there's no way to talk about crime in Esquimalt without wading into the politics, too.
This saga has dragged on since 2003, when Esquimalt's combined police-fire department was broken up, with 28 officers swallowed by VicPD. Esquimalt, the reluctant bride in a shotgun marriage, has stewed since, figuring that it pays a lot of money but gets little say in a department whose focus is on the other side of the Blue Bridge.
Last summer, after looking for other suitors (which did not, much to Esquimalt's surprise, include the Saanich police), council asked the provincial government for permission to contract with the RCMP. The province responded by appointing mediator Jean Greatbatch - whose subsequent report went to the police services branch Jan. 30 - and by telling Esquimalt to fill "significant" holes in its proposal.
And so we sit. Justice Minister Shirley Bond told reporters Thursday that she expects to see a staff report on the matter in four to six weeks.
It has been hard to figure out exactly what council wants, other than more community policing - and the politicians are dreaming if they think they can change channels from Hill Street Blues to Andy of Mayberry. The complexity and severity of crime in Esquimalt demands more than a bobby on the beat, as the drugs-and-thefts case showed. Nor would contracting with the RCMP bring local control; Mounties consult local politicians but take their direction from more-senior Mounties, not city hall. And no knock on the RCMP, but does Greater Victoria, which criminals treat as a single medium-sized city, really need an eighth police department?
It's not as though VicPD is some distant entity. Block Watch captain Bruce Cuthbert spoke Thursday about walking into the Esquimalt office of Insp. Keith Lindner, only to find Lindner had also spotted the neighbourhood problem Cuthbert had identified. "I myself have been very happy," Cuthbert said of the current force.
For his part, Lindner says he tries to ignore all the uncertainty. "We can't let the political climate change what we do. That's not fair to the citizens."
Two blocks away, Sgt. Barrie Cockle stood on Astle Street, which connects Admirals to Constance. Cockle has been policing the township for 29 years - six as a reserve, then 23 as a regular officer. "There are a lot of people who are just trying to make ends meet," he said of the neighbourhood. "They work hard, like their homes.
Unfortunately, recently there have been a few people move into this area who have been up to criminal activity, including drug trafficking."
Naturally enough, drug traffickers attract addicts, who tend to do their crimes - breaking into houses, stealing from cars - close to the source of their drugs. There's also a risk of violence: "People who deal in drugs are often victims of home-invasion robberies because people believe they have drugs or valuables on site."
That's what those 30-plus VicPD cops were targeting. That's what Cockle wants to stamp out. "I like policing in Esquimalt," he says. "I'd be very disappointed if we stop."
jknox@timescolonist.com
We thought you might also be interested in..