Centre's closing won't affect ability to respond to threats, minister says
May 05 2012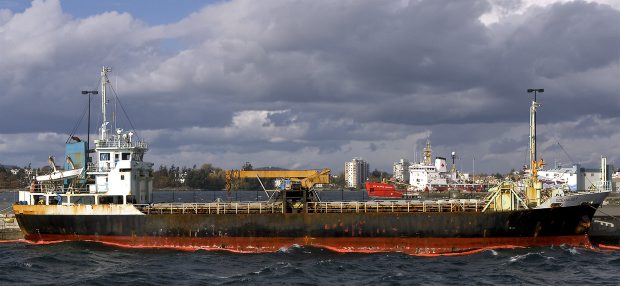 Public Safety Minister Vic Toews says Canada will still be able to catch and respond to human-smuggling operations, such as the Ocean Lady, which arrived in Victoria in 2009 carrying 76 Tamils, after the intelligence centre in Esquimalt is closed.
Photograph by:
Adrian Lam , timescolonist.com (May 2012)
Public Safety Minister Vic Toews defended the federal cuts that will shutter a key intelligence centre on the West Coast, insisting Canada can effectively monitor threats from the Pacific from Halifax.
"In this day and age, we can operate virtually from anywhere and still provide an effective service, especially when it comes to analyzing data," said Toews, who was in Victoria for an emergency management conference. "In my view, any changes will not result - in any adverse impact on our ability to respond to any particular threats that Canadians may have."
The Acoustic Data Analysis Centre (Pacific), which collects and analyzes acoustic data and intelligence at CFB Esquimalt, will close and its operation will be transferred to a similar unit in Halifax.
Critics say the move would weaken the navy's capacity to catch human-smugglers and pirates, and deter military threats from the Pacific.
The closing is part of the Conservative government's plan to slash $1.5 billion from the Department of National Defence budget over three years.
The West Coast has long been a destination for human-smugglers. In October 2009, 76 Tamil asylumseekers arrived in Victoria on the Ocean Lady. Another 492 followed on the MV Sun Seeker in August 2010.
At the time, Toews took a hard line on the issue: "We will send a message loud and clear to other criminals: If you do this, then you will be prosecuted to the fullest extent of the law."
Toews said Friday that closing the intelligence centre would not weaken Canada's response to human smugglers.
The Conservative government is set to pass Bill C-31 - dubbed Protecting Canada's Immigration System Act - which includes tough anti-human-smuggling laws. However, critics say the proposed changes do little to deter smugglers and instead criminalize refugees.
The legislation includes mandatory one-year detention without review for those deemed to be an "irregular arrival" based on border officials' suspicion of human-smuggling, criminal involvement or terrorism.
"Ultimately, there needs to be a stop measure, that, after all of the other measures have failed, [we can use] to ensure these individuals do not remain in Canada if they are not legitimate refugees or immigrants," Toews said.
Toews said Canada has been working with international partners to arrest human smugglers at their point of departure. Prime Minister Stephen Harper was in Thailand in March, where the RCMP and other officials have set up a task force that works with Thai authorities on the issue.
"The two migrant vessels that arrived here in British Columbia over the last couple of years demonstrated the importance of building those relationships with foreign governments to ensure that these individuals are not exploited by what are often criminal organizations," Toews said.
kderosa@timescolonist.com
We thought you might also be interested in..