Sound thinking produces a winner
May 05 2012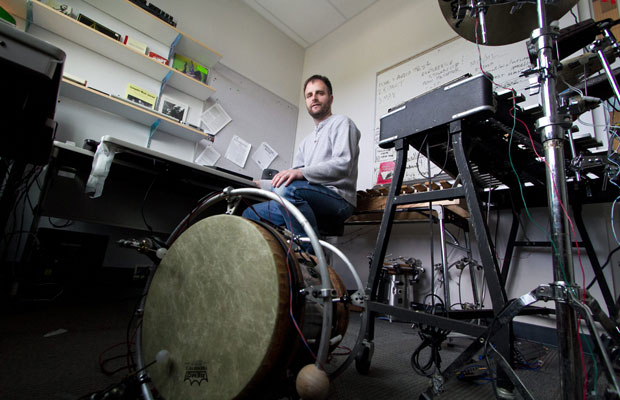 George Tzanetakis uses instruments such as a robotic drum to learn about music and to help people with disabilities.
Photograph by:
Darren Stone , timescolonist.com (May 2012)
Poetry, history and astrophysics are among the subjects that inspired the winners of the University of Victoria's 2012 Craigdarroch Research Awards.
Six faculty members were honoured with awards this week, including an assistant professor who combines computer science with the musical arts.
George Tzanetakis, who was given an Award of Excellence in Artistic Expression, said the basis of his work is gathering information from large collections of audio and music signals.
"This information can be all sorts of things, from understanding elements of a piece of music - like how fast it is or what style it is - or whether it contains a particular instrument," he said.
Tzanetakis can also analyze birdsong and vocalizations from orcas, and has created robots that play music. While on sabbatical, he used his expertise during a six-month stint at Google to look at music in YouTube videos and help identify copyright violations.
Tzanetakis said applications derived from his research can lead in many directions, including helping people with physical challenges. "Someone who has a disability, maybe they cannot hit a physical drum, but they can move a joystick or a button, and we can translate it."
Astrophysicist Don VandenBerg, a professor emeritus, was presented with a Gold Medal for Career Achievement, as was celebrated poet Lorna Crozier, who teaches in the department of writing. VandenBerg is considered a pioneer in the computer modelling of stars to determine their structure and evolution.
One area of VandenBerg's research is "globular clusters" - formations that contain up to one million stars.
"The globular clusters are fascinating because they're believed to be among the oldest stellar systems to have formed in the universe," he said.
"Because they have a range in chemical properties, if we figure out their age, we are then able to understand a little bit, at least, of how the chemistry of the universe evolved over time."
Other award winners were Andre Kushniruk, an expert on tele-medicine and e-health, and neuroscientist E. Paul Zehr, who has authored the books Becoming Batman and Inventing Iron Man. Both earned a Silver Medal for Excellence in Research.
Historian John Lutz, known for his ability to bring Canadian history to life through interactive websites, won an Award for Excellence in Innovation and Entrepreneurship.
The Craigdarroch Research Awards were established in 2003 and are named after Craigdarroch Castle, which housed UVic predecessor Victoria College from 1921 to 1946. The awards recognize outstanding contributions to innovation and scholarship on campus.
jwbell@timescolonist.com
We thought you might also be interested in..