The gear's here, but spill may be far off
May 06 2012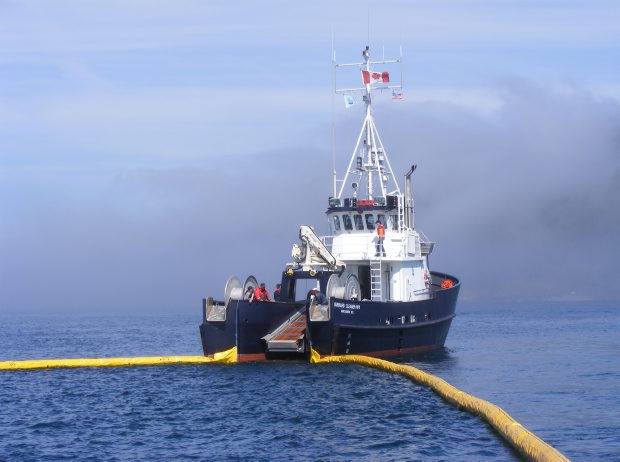 An oil-containing boom is laid out from one of Western Canada Marine Response Corp.'s 28 spill-response vessels.
Photograph by:
Western Canada Marine Response Corp. , timescolonist.com (May 2012)
The biggest toys in B.C.'s oil-spill cleanup toybox are stashed on Vancouver Island.
Western Canada Marine Response Corp., the only Transport Canada-certified organization responsible for cleaning up marine oil spills on the West Coast, has caches of equipment in communities from Port Hardy to Esquimalt, including a 56-metre barge in Esquimalt, the organization's largest skimming vessel in Nanaimo and zoombooms, floating bladders and other goodies in eight Island communities.
Even with that stash, it could take WCMRC up to 72 hours, plus travel time, to assemble the equipment at the scene of a major spill - a time frame that exceeds Transport Canada standards.
"But fishermen and contractors can be on the scene quite quickly and would be our primary responders in remote areas," said Bruce Turnbull, WCMRC business support manager.
"We train these people every year and teach them to deploy booms and understand the mechanics of basic oil-spill response," he said.
WCMRC, with 22 fulltime staff, trains about 100 contractors and 200 fishermen every year.
Trailers and specialized vessels take time to reach the site, so arrangements are in place to use equipment from other agencies, such as National Defence or Parks Canada if needed. If the spill is near U.S. waters, there are international agreements with Washington and Alaska and, if necessary, a global response network kicks in.
"We are forming relationships now, when it's calm, so there's help when the proverbial hits the fan," Turnbull said.
Remote areas and wild seas off the west and north coast can complicate response times - an argument opponents of Enbridge Northern Gateway use against having tankers travelling from Kitimat to Asia.
Safety of the public and response personnel are top of the priority list, said Turnbull, conceding that heavy weather can delay a response.
"If it's unsafe to go out, we don't go out."
Time lags are one of the many concerns the Dogwood Initiative has about spills, a conservation group running an anti-tankers campaign.
"The safest tankers are zero tankers," said Dogwood campaigner Eric Swanson.
"Different kinds of ships come with different kinds of risks, and crude oil tankers come with virtually all the risks and no benefits for British Columbians, and especially Vancouver Islanders," he said.
Technology for dealing with a spill still comes down to shovels, buckets and cotton pads, Swanson said.
"Booms are only useful in calm seas, low winds and low waves," he said.
"And stuff like bitumen sinks to the bottom, so booms are no use."
Turnbull said WCMRC is always on the lookout for new technology, such as a recently acquired current buster, a boom in the shape of a figure-eight.
In addition, response capabilities will actually increase as the number of tankers climbs, Turnbull said.
Under the Canada Shipping Act, all ships over 150 tonnes that are carrying oil must have an arrangement with a response organization - on the West Coast, WCMRC - as must ships over 400 tonnes that are carrying oil and fuel for their own use, and oil-handling facilities.
The price they are charged depends on the number of litres of fuel on board. Currently, WMCRC's budget is about $6-million a year. "The budget depends on the volume, so, the more [tankers] we have [travelling along the coast], the more we have to work with," Turnbull said.
jlavoie@timescolonist.com
We thought you might also be interested in..