Jack Knox: My back's singing the blues from real work
May 06 2012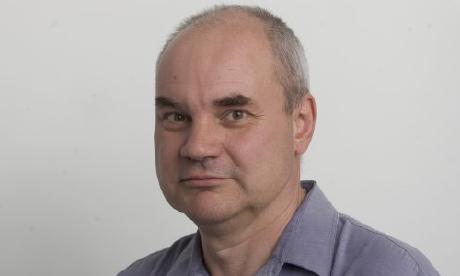 Jack Knox
Photograph by:
Staff , timescolonist.com
I put my back out the other day. It refused to come back in.
I stood on the porch and whistled, but it was gone, just like my first dog, Flash. Perhaps my back has gone to live on a farm somewhere.
We're told that bad backs are common at this time of year, when the sun comes out and so do people, throwing themselves into yardwork as though it's the mosh pit at Coachella.
The beginning of gardening season is chiropractor gold. One minute, you're on your knees rooting up dandelions, the next you're stuck in the traditional mooning position, butt in the air, forehead grazing the grass. Hey pal, spin me around and point me to Mecca.
Anyhoo, that was me this week, hurting like a country song, shuffling like a zombie movie, more burning joints than Christy Clark's high school. If the dog weren't dead, we would be moaning in harmony.
Somehow, I made my way to work, driven by my indomitable will to live, or at least by my wife, who was coming down Douglas Street anyway. This led to a couple of thoughts: A) they sure do get fussy about mixing gin and Robaxacet at the office, and B) I'm glad I don't have a real job.
Real jobs, the type that involve sweating and grunting (and no, not the sweating and grunting where somebody forgets a brassiere in the supply closet), have largely disappeared in postindustrial society.
In the olden days, people were active throughout the day hewing wood, drawing water, toting barges, lifting bales. Nobody felt a need to go to the gym before work.
Nobody did pilates.
Now bull labour has been replaced by computer software and mechanical devices. Machines do our work for us: Fellerbunchers chop down trees, tractors plow fields, robots build cars and run governments.
The U.S. Department of Labor says that in 1950, three in four jobs involved unskilled manual labour. Other sources say the proportion of jobs demanding moderate physical activity has dropped from one in two in the 1960s to one in five today.
The Heart and Stroke Foundation cites U.S. research in which 82 per cent of people said their work involved mostly sitting or standing. Just 4.8 per cent said their job entailed heavy lifting or physically demanding effort.
As you might expect, this lack of exertion has had health consequences, good and bad. One U.S. study found that between 1960 and 2008, job-related energy expenditures dropped by about 140 calories a day for the average American man and 124 for women - accounting for much of the average American's weight gain during that period. No reason to think those figures don't extend to Canada. The only workers still doing heavy lifting are the undertakers.
On the positive side, we desk potatoes, our pink little hands as smooth and uncalloused as a TV preacher, are unlikely to die of, say, the black lung or being trampled by stampeding oxen. Today's workplace injuries are more likely to involve carpal tunnel than collapsing mine shaft. The absence of back-breaking toil is particularly good news now that the federal government has raised the retirement age to 103.
Not everyone is free of that yoke. Those who are locked into physically taxing careers might find themselves ruing the choice as their hair grows grey and the burden bends their backs from exclamation point to comma.
I once met a commercial fisherman who got hurt hauling in his catch. He said he was too injured to keep working, but too broke to stop. The morphine they prescribed knocked him out, but he found he could still drive the boat after switching to medical marijuana. (Pause to consider that he is doing so in the same waters that Chairman Stephen and his Beijing buddies want to fill with oil tankers.)
Just doesn't seem right that an aging worker should have to get stoned to do his job. Unless, of course, that worker is Keith Richards.
Lucky for Keefe that he doesn't have a real job, one he would have to put his back into.
jknox@timescolonist.com
We thought you might also be interested in..