Cyclists gear up for cross-Canada trek
May 06 2012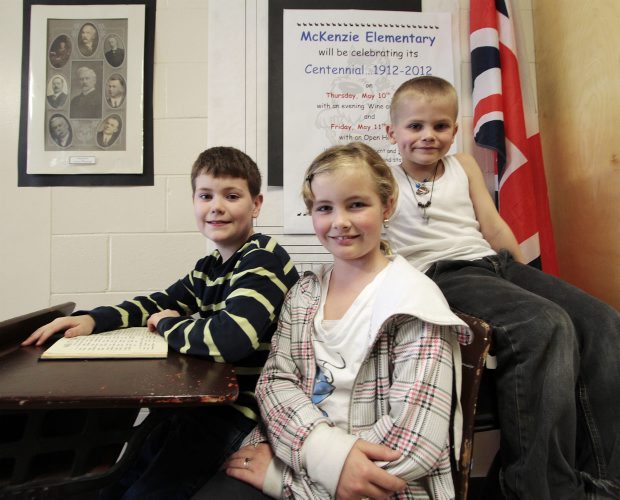 Sarah Maude, 9, foreground, Owen Maude, 7, right, and Grayson Hall, 9, are third-generation students at Mckenzie Elementary School, which is celebrating its 100th anniversary.
Photograph by:
Lyle Stafford , timescolonist.com (May 2012)
Kibby Evans and Daman Milsom will have someone special to inspire them when they set out on a cross-Canada cycling trip later this month.
Evans, a 24-year-old Duncan resident, said the main impetus for the journey is her father, Barry, who underwent a life-saving liver transplant late last year.
"My dad received a liver transplant on Dec. 5, 2011," Evans said. "We started planning this while he was still waiting for it."
She and Milsom call their 9,000-kilometre cycling effort Trekking4Transplants, and have set some lofty goals.
"We're trying to raise $50,000 for the Transplant Research Foundation," Evans said.
They also hope to get 10,000 people to register as organ donors.
It all begins March 31, when Evans and Milsom, a 25-year-old Kelowna resident, pack up their bikes and gear for a flight to Newfoundland. They will start cycling at Cape Spear, N.L., the most easterly point in the country, and make their way to Victoria's Mile Zero.
"We're thinking we'll be back in the beginning of September," Evans said.
"We're packing everything on our bikes and camping along the way."
Neither one is an experienced cyclist, but both have impressive sports pedigrees. Evans played rugby at the University of Victoria and was a member of the campus triathlon club, while Milsom played four years in the B.C. Hockey League, the first three with the Cowichan Valley Capitals, before going on to play college hockey in the United States.
Evans and Milsom are kick-starting their fundraising activities on May 26 with a 7 p.m. barbecue/ dance at Bird's Eye Cove Farm in Genoa Bay, just outside Duncan. The Maxwell Smart Band will be providing live music.
"We're also hoping to register organ donors at the event, as well," Evans said.
Tickets are $25. Call 250466-4228 or email trekking4transplants@ gmail.com.
On the web: trekking4transplants.ca
jwbell@timescolonist.com
We thought you might also be interested in..