WorkSafe B.C. probing worker's death at steel recycling facility
May 07 2012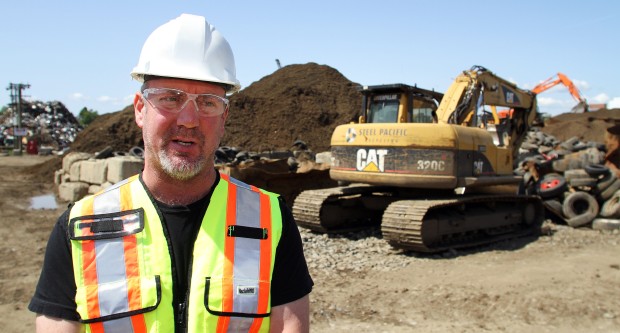 Jamie Wilson, international director of operations for Steel Pacific Recycling: "It's very challenging. It's not easy to deal with something like this."
Photograph by:
Adrian Lam , timescolonist.com
About half a dozen workers at a Victoria steel recycling plant were 40 minutes away from quitting time Saturday afternoon when tragedy struck.
A 35-year-old man, originally from Nanaimo, died in an accident while operating a system of conveyor belts used to separate left-over material from recycled vehicles.
Managers at Steel Pacific Recycling say the man did not fall into a shredder as originally reported by Victoria police. The shredder on site has been out of use for about a year, said Jamie Wilson, the company's international director of operations, who flew in from Portland Sunday.
"Most people should never have to experience this in their work or at any time in their lives," Wilson said from the yard at 307 David St. "It's very challenging. It's not easy to deal with something like this."
Jack Sheppard manages commercial operations on Vancouver Island for Pacific Recycling. He had to make the drive to Nanaimo Saturday to inform the man's mother of the incident.
The victim's father, who is out of town, still had not been informed as of Sunday afternoon.
"It was definitely difficult," Sheppard said. "It's definitely tough for all of us. Our hearts go out to the family and our employees."
The man's co-workers were shell-shocked as they stood near the property two hours after the accident.
Steel Pacific Recycling is tucked away in the corner of a Victoria industrial park. Past the front gate, the main driveway leads around a heaping mound of dirt several metres high.
Beyond that mound, WorkSafe B.C. investigators were analyzing the separation machinery on Sunday. They told the company not to reveal details about the incident, which took place just one week after workers provincewide had paid respects to those who died on job sites in B.C.
A total of 142 workplace fatalities and 103,798 injury claims were accepted by WorkSafe B.C. in 2012. In an average week, 2.7 workers die, more than 2,700 workers are injured and 17 people are permanently disabled.
The coroner was on site immediately Saturday and is waiting for the results of the WorkSafe investigation.
"So far, there is nothing to suggest that it was anything more than just a tragic accident," said coroner Barb McLintock.
Depending on the results, the B.C. Coroners Service might decide to investigate similar worksites to identify common concerns.
Monday's operations at the recycling depot will be minimal as management helps its 25 employees cope with the loss of their co-worker.
dspalding@timescolonist.com
We thought you might also be interested in..