New rules end waste-flushing in Saanich Inlet
May 08 2012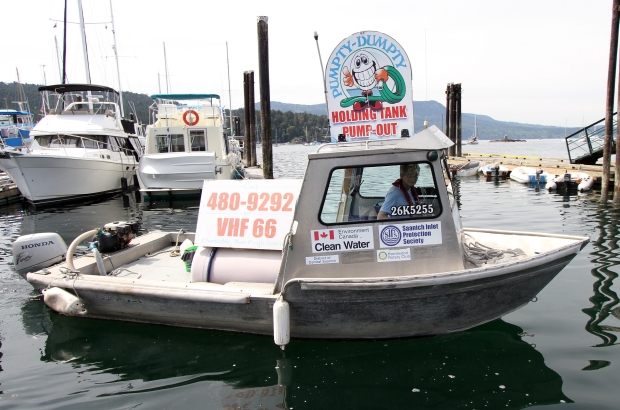 Skipper Sarah Verstegen at the helm of the Saanich Inlet Protection Society's sewage-pumping boat.
Photograph by:
Bruce Stotesbury , timescolonist.com (May 7, 2012)
Saanich Inlet marinas were chock-a-block with recreational boaters Monday - and many of them were unwittingly breaking the law.
New federal rules, which kicked in Saturday, prohibit ships and boats from discharging sewage within three nautical miles of shore, meaning raw sewage from holding tanks cannot be discharged anywhere in Saanich Inlet.
But, with only two pump-out stations on the Inlet - where there is minimal tidal cleansing - little publicity about the new regulations and almost no information about how they will be enforced, it is a good bet that holding tanks are still being emptied into the waters, said Frances Pugh and Sarah Verstegen of the Saanich Inlet Protection Society.
Help for those anxious to abide by the new regulations is available in the form of Pumpty Dumpty, a 20-foot aluminum boat, with most of the space taken up by a 900-litre holding tank. The pump-out boat has been operated on a shoestring by volunteers from the Protection Society for the last decade and they are hoping that, with their assistance, the new rules will help clean up the much-used inlet.
"When there's a law and people actually know about it, 80 per cent of them will comply. It's not a stupid law, it's about having clean water," Pugh said.
"If you want to go swimming, you are swimming in exactly what you put in here," she said, peering over the side into the slightly murky waters.
Verstegen, who skippers Pumpty Dumpty, has tried with limited success to find out how people will be informed about the rule changes and how the law will be enforced.
"A lot of these boats don't even have holding tanks or a treatment system. The trouble is, who is going to check?" Verstegen said. "It falls under Transport Canada and they say any police officer can do it, but has anyone trained them?"
Transport Canada spokesman Rod Nelson said the department will make small vessel operators aware of the new regulations and how to comply with them. "Our approach to enforcement will be guided by results of monitoring initial compliance with the new regulations and from feedback received from stakeholders, both within the recreational boating community and the public."
Pumpty Dumpty volunteers hope many more boaters will use their service, which is available by donation.
Contents of holding tanks are pumped into Pumpty Dumpty's tank and then discharged into the Central Saanich sewage system, which has secondary treatment.
In 2010, 171 boats were serviced, which is a fraction of the number of boats using Saanich Inlet, including some live-aboards. Last year, it was 84 because Pumpty's motor died and, even though Pumpty receives free moorage at Anglers Anchorage Marina, the cash-strapped organization could not replace it immediately. "It's a very hand-to-mouth operation," Pugh said.
The difficulties helped spark a $25,000 donation from Butchart Gardens and a donation from Capital City Yacht Club.
"It's a dirty business, but someone has to do it," Pugh said.
The trick now is persuading boaters to change their ways, with or without the help of federal enforcement. "I am happy to do what I can to get people to change their habits, but when the federal government is behind it, I think they should help," Verstegen said.
jlavoie@timescolonist.com
We thought you might also be interested in..