Man arrested after standoff at suspected chemical drug lab in Gordon Head
May 08 2012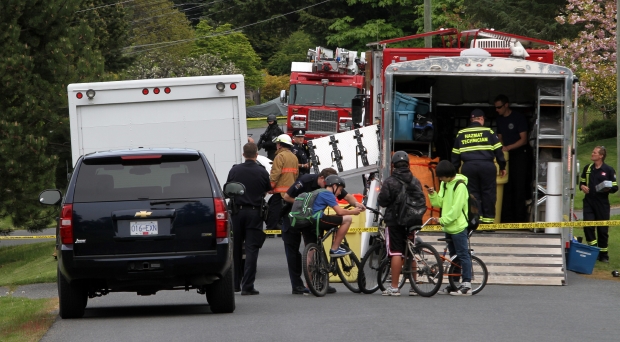 Saanich Police, ERT, Hazmat and firefighters all responded to an incident on Casa Marcia in Saanich
Photograph by:
Bruce Stotesbury , timescolonist.com (May 7, 2012)
Saanich police, tactical team members and a hazardous materials team were called in to deal with a suspected chemical drug lab and a man who barricaded himself inside the home on a quiet Gordon Head Street Monday afternoon.
A resident called Saanich police around 1:30 p.m. to report a suspected drug operation inside a home in the 1900 block of Casa Marcia Crescent.
As police arrived, one man fled and was quickly arrested by officers.
A second man refused to come out, which prompted police to call in the Emergency Response Team, said police spokesman Sgt. Dean Jantzen.
Police could hear the sound of glass smashing inside.
After more than an hour negotiating with a patrol supervisor, the man surrendered and was arrested.
Investigators said the man lives in the basement of his mother's home.
Jantzen would not release the names or ages of the two men, as charges have not yet been laid.
The regional Hazmat team suited up to inspect the home and make sure it was safe for police to go in and carry out their investigation.
Investigators were going to speak with the man's mother at the scene.
Neighbours in the quiet Gordon Head neighbourhood came out of their homes and appeared shocked at the heavy police and fire presence.
We thought you might also be interested in..