Link between parks on Quadra Island takes step forward
May 08 2012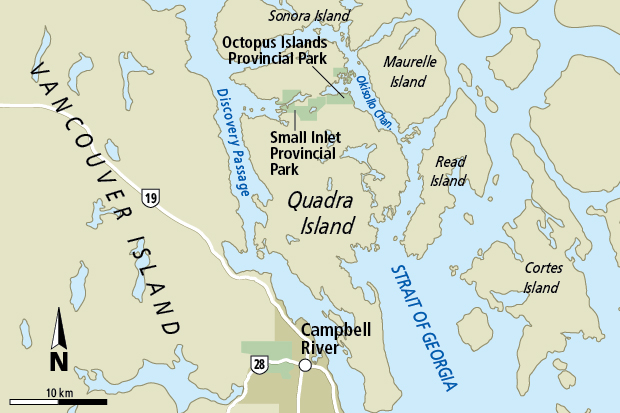 Small Inlet Octopus Islands
Photograph by:
Staff , timescolonist.com (May 7, 2012)
Quadra Island residents are cheering a government move that could seal a deal to purchase key tracts of land linking a pair of marine provincial parks.
Public efforts to preserve 395 hectares of land connecting Octopus Islands and Small Inlet parks date back 16 years, said Sarah Cox of Sierra Club B.C.
"The Sierra Club-Quadra Island has played a major role in it, although people working on it are under the umbrella of Save the Heart of Quadra Parks or the Quadra Island Conservancy," said Cox. "It's a very important piece of land that connects two great parks."
A conditional agreement is in place between the Ministry of Environment and the vendor, with an overall purchase price of $6.15 million.
The ministry is working on "a number of strategies" to secure the required funds, while Quadra Island supporters are mounting a $200,000 fundraising campaign to contribute to the effort.
The funds have to be collected by Sept. 28, the closing date for the sale.
Cox said she had the opportunity to kayak and hike through the area two summers ago, and deemed it "spectacular." She said its many unique features include a large midden, a historic portage trail and a fresh-water spring.
There are also centuriesold aboriginal clam gardens that were built in the bay between the parks.
"It's an area of great archeological significance," Cox said.
Quadra resident Susan Westren said Octopus Islands park is part of the B.C. Marine Trails Network and a haven for boaters and various types of ecotourism. Small Inlet park also provides good anchorage and includes Newton Lake, a popular swimming spot for visitors.
To support the fundraising campaign, email swest@gicable.com.
jwbell@timescolonist.com
We thought you might also be interested in..