Refurbished boat makes a splash
May 09 2012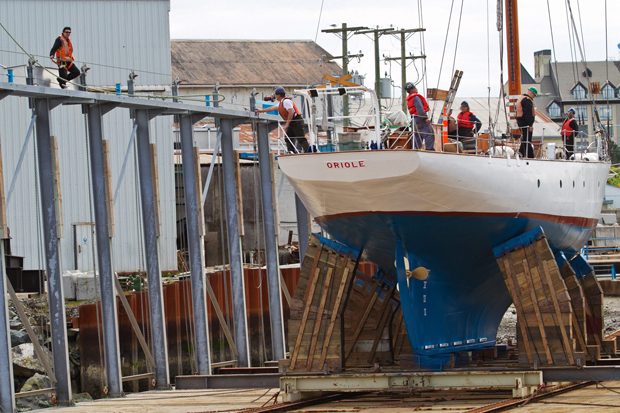 HMCS Oriole is relaunched at Point Hope shipyard on Tuesday. The 91-year-old navy training ship has undergone a major refit.
Photograph by:
Darren Stone , timescolonist.com
HMCS Oriole is back where it belongs, afloat on the ocean after five months in dry dock.
At close to 91 years old, including almost 60 years as a commissioned naval vessel, the ketch needed something of a makeover.
Petty Officer 1st Class Rob Cantwell, the Oriole's coxswain, was at Point Hope Shipyard Tuesday afternoon to watch the refurbished craft get lowered into the Upper Harbour.
"She has seen a replacement of her hull, upgrades to her mizzen-mast - radar, electronics, navigation systems and basically the interior of the boat," Cantwell said. The cost of the repairs was not available.
Work is being finished on various aspects of the refit, Cantwell said, and the vessel will soon return to duty as an "outreach platform" for the Canadian navy.
Oriole is also a fixture in the Swiftsure yacht race, and every effort will be made to prepare it for this year's event on May 26.
"After Swiftsure, we'll be heading south to Portland, Oregon, for the Rose Festival, so we've got quite a busy schedule going," Cantwell said.
Oriole also appears in other sailing events, including the Cadillac Van Isle 360, a race around Vancouver Island, and lends a stately presence to yachtclub openings and other functions.
The vessel has a huge recognition factor, Cantwell said. "Everybody on Vancouver Island knows Oriole. We say we're going somewhere and Oriole's coming, we have a lot of people show up."
Cantwell said the experience of being part of the Oriole crew is unique in the navy.
"We introduce them to what going to sea is," he said. "It's seamanship, it's team-building, it's learning to live with the people that you work with. There's a lot of life skills."
A celebration of Oriole's 60 years as a naval vessel and its 91st-birthday party will be held May 30 at CFB Esquimalt.
jwbell@timescolonist.com
We thought you might also be interested in..