Police drug unit removes samples from suspected lab
May 09 2012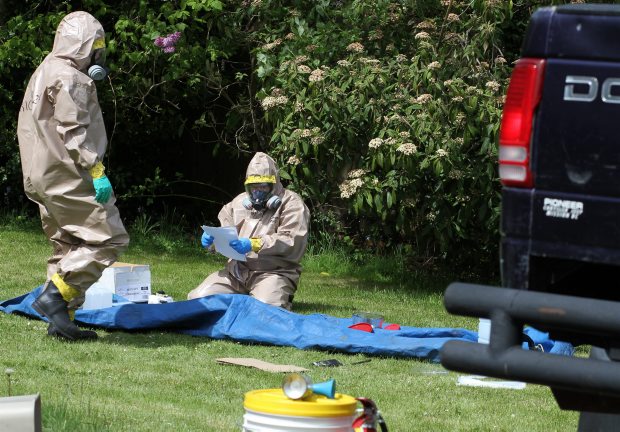 Police officers wear protective clothing as they investigate a suspected criminal drug lab on Casa Marcia Crescent in Gordon Head Tuesday.
Photograph by:
Bruce Stotesbury , timescolonist.com (May 2012)
RCMP clandestine drug lab experts descended on a Gordon Head home Tuesday to examine the chemicals police believe represent the early makings of a chemical drug lab.
Investigators found the unmarked chemicals in five-gallon drums in a backyard shed at 1924 Casa Marcia Ave. on Monday afternoon after a neighbour called police about a suspected drug operation.
The Mounties specialist drug unit arrived from Vancouver on Tuesday.
Dressed in full protective gear and gas masks, they carefully took samples of the chemicals in the backyard.
Drug experts will forward their findings to Saanich police's street crime unit, which will handle the investigation, police spokesman Sgt. Dean Jantzen said.
There was little glassware or drug-cooking equipment inside the home, Jantzen said, which suggests police interrupted the suspected operation before it progressed.
Jantzen said it was too early to tell what drugs the chemicals might be used to cook up. The chemicals were highly flammable and could have sparked an explosion had they been near a heat source, he said.
A man barricaded himself inside the home on Monday, smashing glass, yelling and refusing to cooperate with police negotiators for about an hour, prompting Saanich police to call in the Greater Victoria Emergency Response Team.
The man eventually surrendered to police.
A hazardous-materials team was on scene Monday for the initial inspection of the chemicals.
The house was surrounded by police tape and was secured by officers.
Three vehicles were in the backyard and side driveway. Jantzen said a red pickup truck was also part of the police investigation.
A resident of the home, 31-year-old Joel Michael Toevs, is in police custody. Police are recommending charges of drug production and possession for the purpose of trafficking. Toevs is due to appear in court this afternoon.
kderosa@timescolonist.com
We thought you might also be interested in..