Arrest made in 25-year-old child sexual assault case
May 10 2012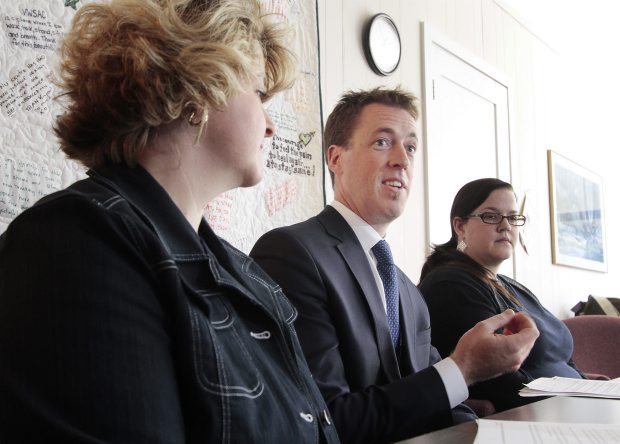 Forensic nurse Joanne Mclaren, left, Victoria Police Det. Sgt. Todd Wellman and Tracey Coulter, counsellor with the Women's Sexual Assault Centre, speak at a news conference in Victoria on Wednesday.
Photograph by:
Lyle Stafford , timescolonist.com (May 2012)
A 66-year-old man who allegedly sexually assaulted a child in Victoria more than 25 years ago has been arrested in Quebec.
The man was arrested on Tuesday after charges of sexual assault and gross indecency were sworn against him April 13.
Police did not release the name of the accused because he is a relative of the victim, who cannot be identified.
The alleged offences occurred in Victoria between Oct. 1, 1984, and Dec. 31, 1986, according to court documents.
Det. Sgt. Todd Wellman, who head's Victoria police's special victim's unit, said the assault was first reported in 1998, but investigators didn't have enough evidence to press charges.
The case was reopened in 2009 when the woman came forward with more information.
Wellman would not say how long the man lived in Victoria, when he went to Quebec or where in that province he was arrested.
Wellman said that while sex offenders are often repeat offenders, he did not believe the accused had a history of sexual abuse.
The man was released on strict conditions and is set to appear in Victoria court on June 25.
Wellman did not provide the age of the woman, but confirmed she was a child at the time of the assaults.
"The victim has had contact with the Victoria Women's Sexual Assault Centre and I can say she was thrilled to hear that we made the arrest," Wellman said at a press conference on Wednesday, flanked by a counsellor from the centre and a nurse specializing in sexual assaults.
Wellman said many sexual assault cases are hampered because the victim is paralyzed by fear, selfblaming or concerned that no one will believe them.
He said the case showed that victims can come forward any time, regardless of when the attack occurred, and be treated seriously by police.
"We want to send a message to the criminals out there that we won't stop looking for you," Wellman said.
Tracey Coulter, a counsellor with the Women's' Sexual Assault Centre, said victims are referred to the centre either through their crisis line, police or the hospital. The centre treats individuals struggling through trauma from recent assaults as well as victims of historical assaults, she said.
"We normalize and validate that what they're going through isn't their fault, that we're here to support them," Coulter said.
Joanne Mclaren, a forensic nurse for the Vancouver Island Health Authority, said while it's best for victims to seek medical treatment as soon as possible after a sexual assault, forensic evidence can be collected from a victim up to 10 days later.
Saturday is the annual Walk a Mile in Her Shoes event, in which men don high heels in an effort to raise money for the Women's Sexual Assault Centre and create a dialogue about sexualized violence. The walk starts at 2 p.m. at Centennial Square.
kderosa@timescolonist.com
We thought you might also be interested in..