Smart-meter critics take concerns to health office
May 10 2012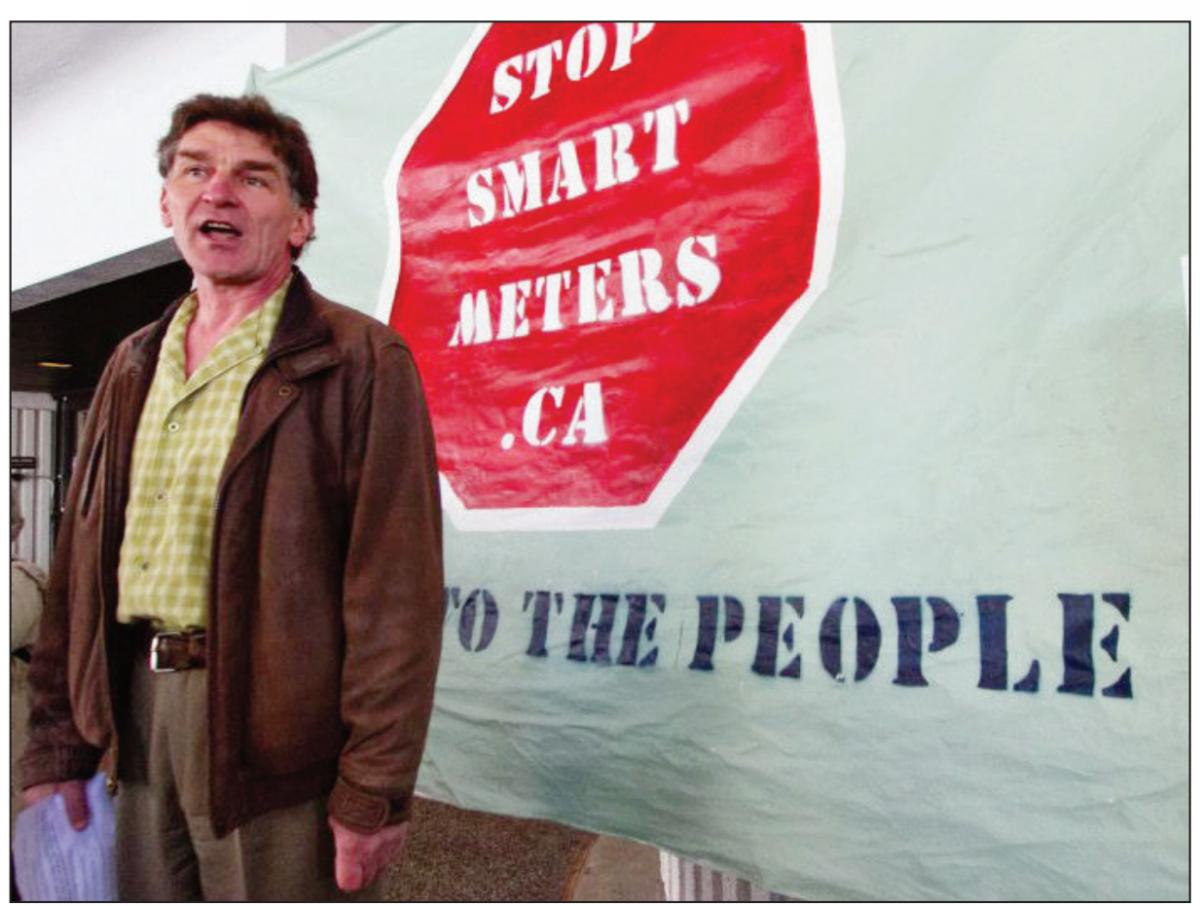 Steve Satow talks to Supporters of StopSmartMeters.ca at a rally outside of the Ministry of Health on Blanshard Street on Wednesday.
Photograph by:
Darren Stone, Times Colonist , Times Colonist
About 60 people carrying signs and placards decrying B.C. Hydro's smart-meter program staged a peaceful demonstration Wednesday outside the offices of Dr. Perry Kendall, the provincial medical health officer.
The noon-time protest at 1515 Blanshard St. saw protesters lining up single-file to deliver to the receptionist 160 studies that they say support their view that the electronic meters have health hazards.
The organizers did not make copies of the studies available to the media.
Steve Satow, president of StopSmartMeters.ca, a non-profit society, said people came from as far away as Nanaimo and Abbotsford.
"We expect our provincial health officer to put our health and safety above and beyond the commercial and corporate interests of B.C. Hydro and a government that intends on privatizing our public utility," Satow said.
Kendall has so far ignored the evidence put to him by those opposed to smart meters, said Satow.
"Is Dr. Kendall supposed to be working for us or for B.C.
Hydro?" he asked.
Kendall was not at his office and is not available for comment this week, but in the past he has said he recognizes that people are concerned about the potential health effects of smart meters.
However, he said, studies delivered to him in the past by smart-meter opponents have not represented new scientific information from peer-reviewed sources.
"The majority of health organizations charged with reviewing the possible health impacts of electromagnetic exposures are still of the opinion that more information is needed before restricting exposures," Kendall said in an earlier statement.
Independent testing has confirmed that B.C. Hydro's smart meters communicate for about 1.4 seconds each day, he added. The meters' strength at 20 centimetres from the meter is about 50 per cent of the strictest standards in the world.
Janis Hoffmann said she attended the protest because she was concerned about "the layers and layers" of electronic signals in the air.
She said her grandson is having headaches, which she attributes to Wi-Fi being installed in his elementary school.
"He's to the point that he's vomiting."
About 5,225 people have signed an online petition at stopsmartmeters.ca aimed at repealing the section of the Clean Energy Act that requires B.C.
Hydro to install smart meters.
More information on the government view is available at health.gov.bc.ca/pho/issues.html.
smcculloch@timescolonist.com
We thought you might also be interested in..